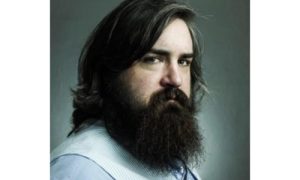 I do not regret writing my last column. I do somewhat regret that it ran on the exact same day we all found out the submarine imploded.
In case you missed it, my last column was a satirical piece inspired by Ray Bradbury's "A Sound of Thunder" in which three billionaires become lost in the past after paying big bucks to hunt Tyrannosaurs and the CEO of Time Safari Inc. insists to the public that the situation is both unpreventable and not at all funny. It was, of course, inspired by the OceanGate tourist submarine disaster, which ultimately claimed the lives of all five people on board.
A handful of my regular readers didn't find that column very funny, or even found it to be tasteless and cruel. I won't argue with that; it's a fair reaction. But this story, I think, is one worth lingering on for one more column. I believe that the OceanGate story represents a watershed moment in our public discourse surrounding billionaires.
Since the Titan submersible first lost contact with the surface, I have observed two different views emerge on social media. The first view is that this disaster is so insane as to be comical. The Titan looked like something cobbled together in a backyard, not a sophisticated deep-sea submersible. Stockton Rush, the founder and CEO of OceanGate who was among the five who died, had bragged in the past about cutting corners to circumvent "unnecessary" safety regulations and showed off the modified aftermarket PlayStation controller used to pilot the sub. The situation was patently absurd.
Of course, the camp that views this disaster as comical also highlights that three of the five people aboard the sub were enormously wealthy; one of the victims was a "space tourist," while another is listed on Wikipedia as one of the wealthiest people in Pakistan.
The second view I have seen on social media is that making light of this disaster is nothing short of monstrous. These are, after all, actual people who lost their lives, people who left behind mourning loved ones. To make light of their suffering — especially during that window of time before it was known the sub imploded and it was thought they were trapped on the ocean floor and running out of air — is cruel and horrific.
While I tend to fall more in line with the first camp, I certainly can't argue with the second. But I think I can explain why the first camp feels the way it does.
Put simply, America is on the cusp of class warfare.
The aforementioned Pakistani billionaire — who, tragically, brought his 19-year-old son along on the sub despite the son reportedly not wanting to go — spent half a million dollars on his two tickets. Half a million dollars to descend to a site where thousands of people died and take a selfie with a porthole in the background.
I make a comfortable living. If I somehow didn't spend a single cent of my paycheck, AND I somehow received that paycheck without any tax being taken out of it, it would take me more than a decade to earn half a million dollars.
Nearly everybody is struggling right now to some degree, especially folks my age and younger. You can't go to the grocery store without spending a fortune. You can't buy a house. You can't afford a new car, or even a halfway decent used one. It has become preposterously expensive to simply exist.
When the average person is one medical emergency away from bankruptcy, it's hard to have much sympathy for a billionaire, much less a billionaire who used his absurd wealth to put himself in the very situation that claimed his life.
Again, a spot on this submersible cost $250,000 per person. For most people, myself included, that is an inconceivable, life-changing amount of money. That is an amount of money that can solve most problems and open most doors. That is an amount of money that would provide the vast majority of people with a sense of ease and comfort that they have never before known. And these folks were spending it so they could go take a selfie in front of a tiny window looking out on a mass graveyard.
To be clear, we're not talking today about folks who are simply wealthy. No one is raging about people who make a couple hundred thousand a year. No one is coming for folks who have a few million in the bank. We're talking about billionaires, the top one percent of folks who hold nearly 40 percent of our nation's wealth.
As the gap has widened between our poorest and our richest, more and more people seem to be aware that it's impossible for a billionaire to accrue their wealth humanely. Every day, new horror stories emerge about the conditions at Jeff Bezos' Amazon warehouses. Elon Musk wouldn't have been able to blow $44 billion on Twitter if he hadn't been the recipient of generational wealth from an Apartheid-era emerald mine. Even Bill Gates, a man who has settled into the role of benevolent philanthropist and is despised by conspiracy theorists because of it, built Microsoft through the use of mercenary business tactics; the company was quite nearly broken up for being an illegal monopoly.
Is it wrong to make light of the situation when a tragedy befalls a billionaire? Maybe so. But it's hard to have sympathy for folks who would bury you or me alive if there was a slight chance it would increase their portfolio value.
The good news is, no matter what jokes were made at the expense of the billionaires aboard the OceanGate sub, they never saw a single one.
Hopefully, however, other billionaires did.