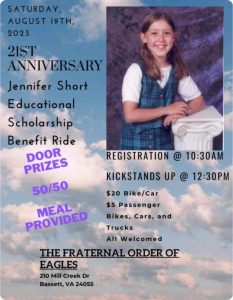 The 21st annual ride to honor a Henry County girl and raise funds for a scholarship bearing her name is set for Saturday, August 19.
The Jennifer Short Educational Scholarship Benefit Ride will start at the Fraternal Order of the Eagles in Bassett. Registration begins at 10:30 a.m. and kickstands go up at 12:30 p.m.
Event organizer Ruth Ann Shields said the cost to enter is $20 per bike or car and $5 for a rider.
"So, if you have someone that wants to ride with you, it's $5 for them to ride," she said.
All proceeds from the event will go towards the Jennifer Short Scholarship, which raises funds to award a scholarship to students in Henry County who can't afford to go to college.
At last year's event, Shields said she met a girl who said she was one of the first recipients of the scholarship.
"She told me that it really helped her a lot because she really couldn't afford to go to college, and" that made me want to help, she said.
Shields said riders will leave from the Eagles Club parking lot and take a left to get onto Virginia Avenue. Riders will then go through Collinsville and Martinsville, traveling to the bridge near where Short's remains were found in Rockingham County, North Carolina.
The ride should take around 30 minutes and cover 25-30 miles.
Shields said a free meal will also be provided for each rider after the event.
"We're going to have Bojangles, they donated chicken for us this year. I had Woody's Supermarket and Walmart donate water, and Ridgeway Farmers' Market donated watermelons," she said.
Shields estimated that at least 100 people attended last year's event.
Shields also plans to hold other events throughout the year to raise funds for the scholarship, including a bowling event in September and a potential bake-off.
"We're thinking we're planning to do something around Christmas time, but we're not quite sure yet or 100 percent on what we're going to do," she said.
Michael and Mary Short were found shot to death in their home on August 15, 2002. Their daughter, Jennifer, 9, was missing and presumed abducted by her parents' killer or killers. Six weeks later, remains found in Rockingham County, N.C., were determined to belong to Jennifer.
To date, the case remains open.
Anyone with information about the case is asked to contact the Henry County Sheriff's Office at (276) 638-8751, or Crimestoppers at 63- CRIME (632-7463). Rewards of up to $2,500 are available through the Crimestoppers Program for information related to crimes. The nature of the crime and the substance of the information determine the amount of the reward paid.