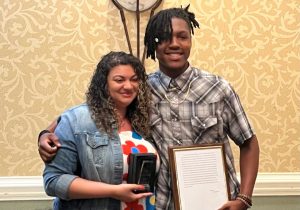 Recently Big M Trophy recipients were honored with a luncheon at the Dutch Inn for both the students and their parents. During the luncheon, students also had the opportunity to read a letter and honor their most influential teacher. 
Twenty-two high school seniors received the Big M trophy. Only seniors with a cumulative scholastic average of 3.7 and above are eligible for the trophy. Eligible students must be enrolled in three or more academic subjects, one of which must be an honors course.
During the luncheon students had a meal with their parents and teachers. Afterwards the students had a chance to read a letter to their most influential teacher and present them with an award. 
Demitri Blackwell recognized Katarina Childress as his most influential teacher. Blackwell talked about the struggles of getting through classes on zoom during the pandemic and how Childress helped with that process. 
"She helped me get through COVID the most because every day I had her zoom and she was the highlight of my day with her radiating energy," he said. Childress was honored by four other students during the luncheon.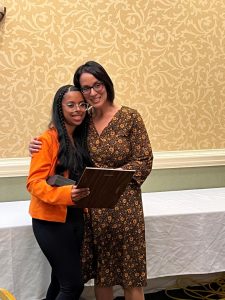 Papion Shelton recognized Samantha Spencer as her most influential teacher. 
"I am honored to have you have you in my life as a teacher and a friend," Shelton said. Although her first impression of Spencer was not a good one. 
"I thought you would be one of those cocky, strict teachers without even getting to know you," she said. Shelton credits Spencer with teaching her about many life experiences and life in general. 
"I love how you treat every student as if they were your child. If there were more teachers like you the teaching industry would be unstoppable," Shelton said of Spencer.
Big M trophy recipients were Marcaisa Jenee Becker, Demitri Keyvon Blackwell, Hayden Elise Calfee, NiJe'l Malik Cook, Christian Alexander Scott Eames, James Demetrius Farris Jr., Nadia Jazmin Flores, Zane Mills Gardner, Matthew Gabriel Gilbert, Trenati Cherkara Hairston, Katherine Marie Hall, Natalia Janae Martin, Eyad Abdelnaser Mohamed, Amanda Marie Mosser, Faith Elena Munoz, Joseph Hunter Nguyen, RG Vincent Olea, Ashlynn McKenzie Patten, Myia Shante Pettie, Ciara Monique Ramey, Papion Jolie Ritenour Shelton, Kayla Marie Solomon.
Honored Teachers were John Allen, Alisha Bennett, Katarina Childress, Amber Corns, Lynne Deckel, Jason Gibson, Kathy Harned, Shannon King, Elizabeth Lynch, Keri Soqui, Samantha Spencer, Tanner Sweitzer, Jenny Whittaker, Ronnie Wray.