Another installment of Bassett Historical Center Presents will be held on Tuesday, May 9 when author Brenda Strickland shares her story about how her first fiction book, Moonshine and Salteens, came to be.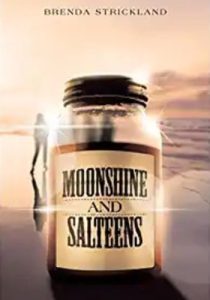 Moonshine and Salteens, a mystery with history, is the exciting tale of a group of retirees on a weekend seaside getaway who embark on a salty mission to find a murderer.
The book is a fictional account of Shirley Dalton, a retired educator who lives in a town known for making good moonshine. Dalton becomes friends with other retirees—Jackie, Kea, Lucy, and Roberta—and they decide to name themselves "the Salteens" since they enjoy visiting salt caves and the beach. Although the ladies are all seeking adventure in their third act of life, none has a clue they are about to become embroiled in a murder mystery.
After the Salteens head to Seaside Beach for a weekend getaway, Dalton unwittingly unearths a human hand while settling in for an afternoon on the beach. Obviously shaken, she and the other retirees summoned the police and headed back to their rental. Fueled by an insatiable need to know more, Dalton convinced her friends to extend their stay and help her investigate. But when good sense falls by the seaside and their moonshine antics become the talk of the tourist town, only time will tell if the women can solve a string of grisly murders or if they will go down in history as just a group of retirees full of shenanigans.
Strickland is a former resident of Henry County and a retired educator, having once taught in both public school divisions in the City of Martinsville and Henry County. She holds many educational degrees and has authored nine nonfiction teacher resource books. 
She will have copies of her book for sale during the program which begins at 10 a.m. in the Bassett Historical Center's Susan L. Adkins Memorial Meeting Room. The program is free and open to the public.