Patrick & Henry Community College nursing alum and Patrick County native Ron Spencer has donated a copy of his memoir, Half Penny, You Can Make It If It's All You've Got to P&HCC's library and partnered with his sister, Karen Spencer, and wife, Stephanie Stone Spencer, to make a donation to P&HCC's Patriot Pantry.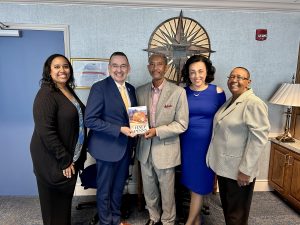 Spencer's memoir centers on four generations of his family, revealing their colorful past. This motivational and entertaining memoir, filled with vignettes, is Spencer's effort to be the "memory" for many in his family.  The open and easy-to-read book is a life story which many people will relate to as some situational descriptions were likely a part of their own upbringing in the same marginalized community.  The themes of self-reliance, self-determination and hard work are scattered throughout to capture, retain and inform the reader of growth tracks and steps to take to achieve their goals.
"As the son of a coal miner and a domestic worker, I am grateful for all their parenting decisions while working with limited resources. I am appreciative that we don't have to dwell on the past; however, the instructions from that time are still especially relevant today," said Spencer.
"From the 'force- multipliers', the instructors, administrators and support staff at P&HCC who intentionally guided us through to matriculation, we learned the importance of paying it forward. Other important lessons we learned were to be consistent, bring good energy, manage stress and provide encouragement for others; just as my dedicated instructors had done for us.  Most importantly, we learned that education is the gift that keeps on giving so rarely did any of us ever miss a day of classes.  Dr. Greg Hodges and staff are indeed accountable to make sure the door stays open so others can enter behind us to make their own 'Razz-Ma-Tazz' with the same high-quality education in a richly diverse environment," Spencer added.
Donations to P&HCC's Patriot Pantry support food insecure students as they work toward their goals. Donations can be made online by clicking Donate on P&HCC's website (www.patrickhenry.edu).
Spencer's Half Penny is available for purchase on Amazon.com.