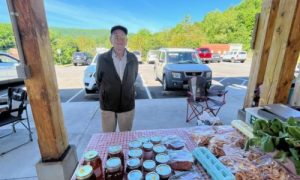 Retirement does not agree with Grover Roark.
The 95- year-old farmer devotes much of his time to selling his homemade fried apple pies, honey, and other fresh produce at weekly farmers' markets.
"I was raised on a farm, and when I retired after just a few months I had done everything around the house I wanted to do. I had to do something; I couldn't be still," said Roark, who decided to start selling his produce after retiring from General Mills.
"I went and bought the equipment for produce, and started raising produce, and I've been doing it ever since," said Roark, who also sets up at the Farmers' Market – Uptown Martinsville every Saturday morning.
He also is a regular at the Stuart Farmers' Market, where he has the distinction as the vendor with the longest record. In addition to honey and fried apple pies, Roark also sells potatoes, beets, corn, tomatoes, beans, fried apples, greens, onions, and a variety of other fresh products.
Roark has been returning to markets in the area for 32 years, a practice he continues for his health.
"That's what keeps me going. I work every day where the weather's so I can. In the summertime, I work anywhere from 12 to 14 hours a day. I can't sit down and be still like some people can, I have to be on the go," he said.
Despite his advanced age, Roark said he has no plans to slow down.
"My son says, 'Dad, slow down.' I can't slow down. He wants me to come and live with him, but I wouldn't last six months. I got to be on my go," he said.
To tend his crops, Roark drives his golf cart down to the field. Then, he splits his time – working for a while and sitting to rest a while.
"I don't like TV, so the only entertainment I do anymore is read. I used to play golf all the time, but now I read," he said, chuckling.
While he doesn't enjoy cleaning his house and has someone do it for him, Roark said he enjoys working.
"I love a pretty yard and I love a good garden. That's the two things I do continuously all the time, and that's where I spend all of my days. I don't like the inside, I'll stay very little inside," he said.
Roark said he likes setting up at the market because he considers it and other vendors to be his family.
"I live by myself, so this is my family. It gives me a chance to get out and be with people, and I do enjoy talking to people," he added.