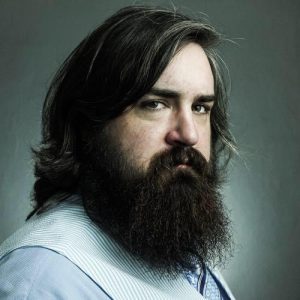 For ten years now, I've been involved in print journalism in one capacity or another. While I'm now more than happy to just be a weekly columnist, I was a full-time reporter for six and a half years.
I learned a tremendous amount from my first editor, the legendary Ginny Wray, and I've continued to learn from my current editor, the remarkable Debbie Hall, who allows me to do my own thing even if it's often strange and absurd. I truly appreciate that. 
There were a whole lot of editors between those two, sort of like the rotation of guest stars on "The Love Boat" except without the joy or humor. However, there's one in particular that stands out, mainly because he galvanized me to find a new job. 
The tipping point came one day when I was telling him we needed to do a story on a local organization. Without going into specifics, the organization had just done something wonderful for the community. We had dropped the ball when covering them the year before, and I was telling him that I wanted to do a big front-page story about the service they were providing. It deserved recognition.
"Have you pulled their 990s?" he asked, a complete non-sequitur. A Form 990 is an IRS form for gathering information about tax-exempt organizations.
"No?" I said.
"You should," he said. "Do a story about how much everyone there is getting paid. People go crazy for that."
I decided in that moment that I needed to get out. That was not a story I wanted to write. 
It's one thing to do a story about politicians pulling massive paychecks; politicians are public figures. If you're crazy enough to go into politics, you go into it with the expectation that your privacy will take a hit. But the people working at this organization were private citizens. I had no idea how much money they made — the guy who squeegeed the windows was probably making more than I was at the time — but I didn't care. 
When you run a story like that, it carries an implicit message: these people don't deserve the money they're making, however much it is. They don't deserve their jobs. 
The editor was right, of course; people WOULD have gone crazy for that story. People also go crazy for stories about which celebrities have gained weight and which ones have lost too much. People go crazy for a lot of stuff that's sleazy and low-class. 
Not long after, I handed in my two weeks' notice. I will never forget what the editor said to me after reading my letter:
"I'm sorry to see you go, Ben," he said. "You had so much more to learn from me."
I will go to the grave regretting that I didn't pick up an assault charge that day. 
This isn't to say that I avoided confrontational stories. In fact, some of my favorite stories were confrontational. I loved catching state politicians in lies and exposing their hypocrisy (a task slightly easier than shooting fish in a barrel). I had uncomfortable phone calls with prominent local folks, people I consider friends. If I had evidence they were in the wrong, I would call them on it. That's part of the job.
But even so, I had a certain code of ethics I followed. I follow it to this day when I'm writing my columns. It goes like this:
Generally speaking, don't call out a private citizen. If you do feel it necessary to call out a private citizen, try not to call them out in a way that would allow others to identify them. And if you DO have to call them out in a way that identifies them, make sure of two things: that they're on the wrong side of history, and that you have the evidence to back it up.
Everybody is fallible, but I try to follow these rules. I followed them up above when talking about that editor. Having a public forum carries some hefty responsibilities. It's a bit like owning a car: it can be useful, and it can be fun, but you have to make sure that you don't lose control and run over somebody.
All of which leads me to the recent incident that inspired this column.
Last week, a journalist wrote a column that mentioned a friend and former colleague of mine. He said the only reason she received her current position with Martinsville City Schools was because the job offer was a mea culpa for a previous slight. 
That's quite an accusation to throw out with zero evidence. Some might argue it borders on libel.
This accusation hurt my friend. How could it not? She's a talented writer who's a relatively recent Martinsville transplant and has managed, through hard work, to get a job with the city school district. That's something to be proud of, and to suggest that she just lucked into the position is massively insulting.
I suspect my friend, like me, grapples from time to time with impostor syndrome, that pervasive sense of doubt that causes you to question your accomplishments and abilities. Having someone declare in a public forum that you're undeserving of your job only heightens those doubts.
Of course, I have generally observed that there are two kinds of people in this world: those who struggle with imposter syndrome, and those that ought to.
While I'm obviously most concerned about my friend, I feel certain that this journalist's unfounded accusation also sits poorly with administration at Martinsville City Schools, since it's essentially accusing them of corruption and cronyism. That sort of claim tends to make things real awkward when it comes time to cover the next school board meeting.
Now more than ever before, journalists have to be held to a higher standard. Obviously, columns are held to a different standard than news articles, but there is still a responsibility to the truth and an expectation that personal grievances will not be transformed into "facts" that are disseminated to the public. 
I'm not pointing no fingers at nobody, but in the words of parents worldwide, I'm not angry, I'm disappointed. Really, isn't that so much worse?