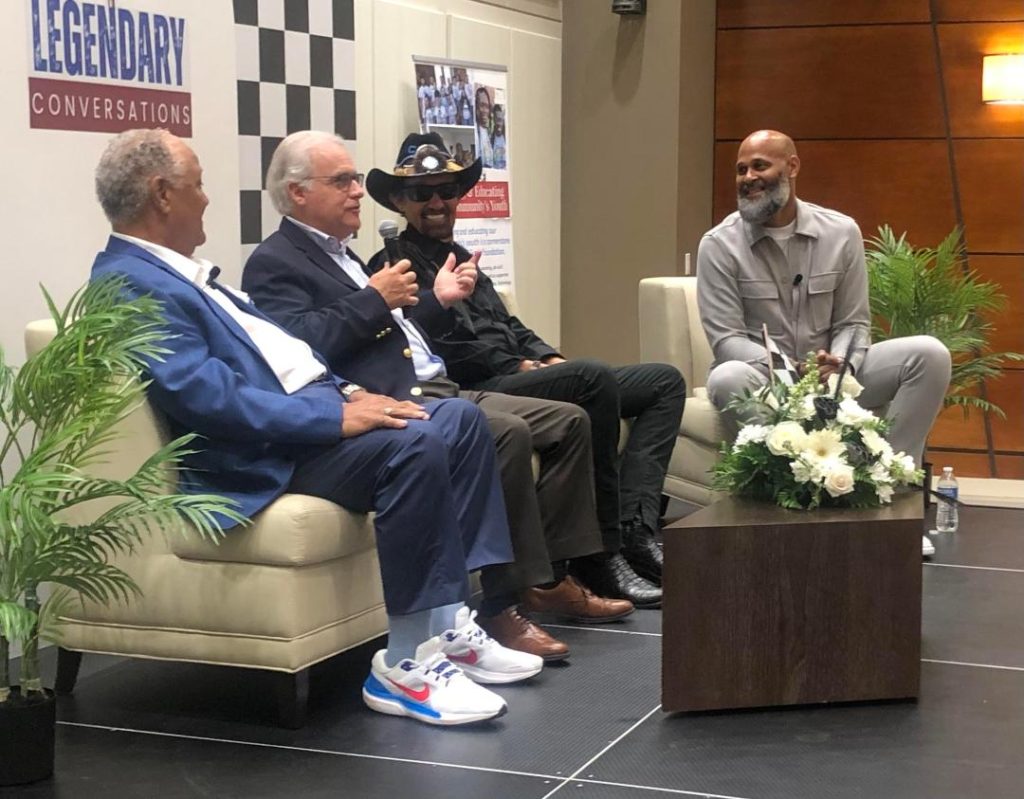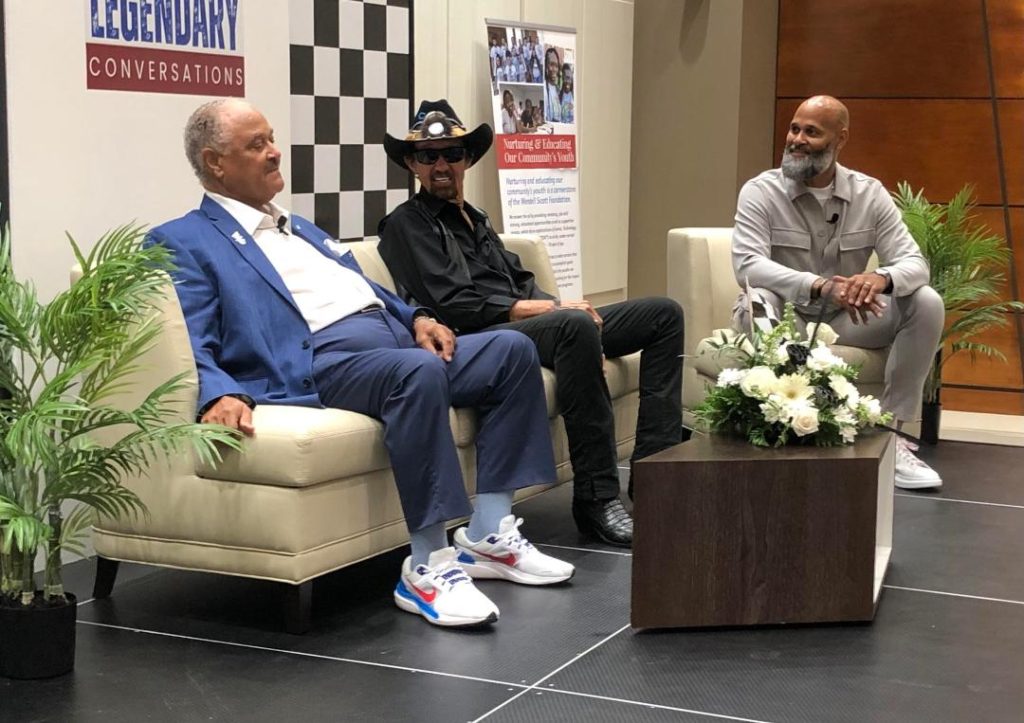 More than 250 filled the Martin-Lacy Lecture Hall at New College Institute, and many more watched from big screens in other parts of the building, when Richard Petty and Frank Scott had a "Legendary Conversation." 
The Legendary Conversation program, hosted by Warrick Scott, was a joint presentation by NCI and the Wendell Scott Foundation on Oct. 25.  
Wendell Scott (1921-1990) was the first Black driver and team owner to compete and win in all divisions of NASCAR at its highest level. Frank Scott is his son and was his pit crew chief, and Warrick Scott, his grandson, is the founder and CEO of the foundation.  
Known as "The King of Racing," Richard Petty competed in NASCAR races from 1958 to 1992, driving the iconic No. 43 Plymouth/Pontiac for Petty Enterprises. He was the first driver to win the Cup Series seven times, and he won a record 200 races, 15 of them at the Martinsville Speedway.  
Frank Scott said his first encounter with Richard and the late Lynda Petty in 1961, at a race in Bristol. Richard Petty asked his wife "to take me under her wing," Frank Scott said. She taught him how to keep score of the race and gave him "the best sandwich I ever tasted in my life." She made me feel comfortable, so the relationship grew from there.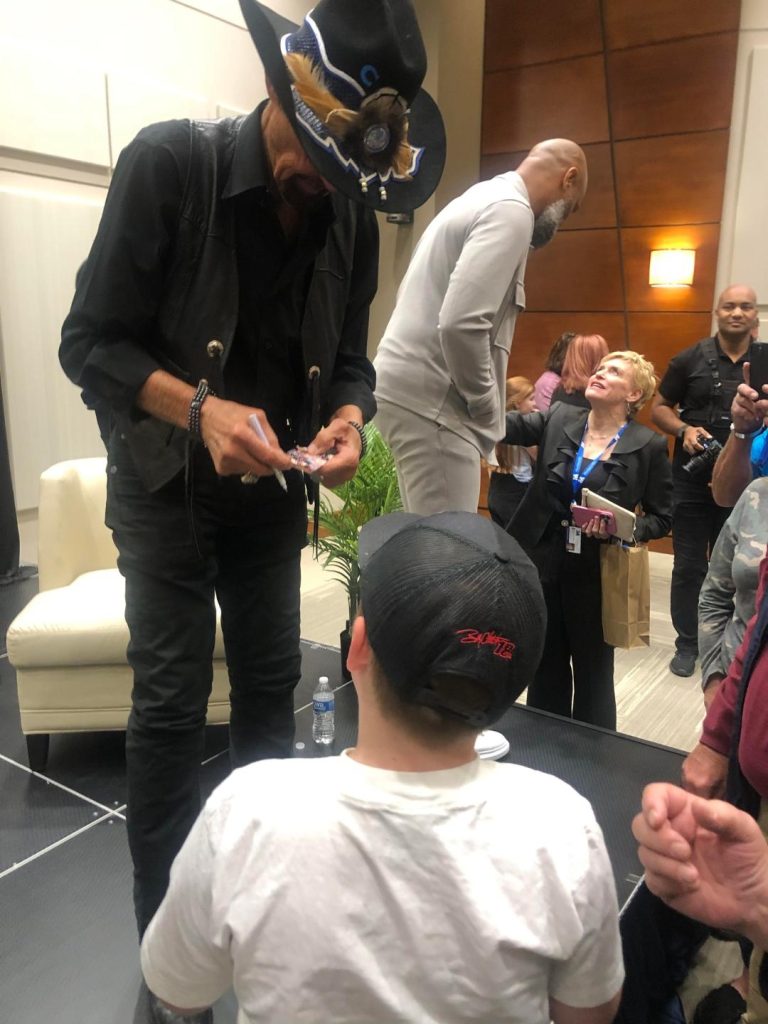 Some in racing did not accept the Black race car driver, but "to me, when Wendell showed up it was just another driver." He admired Scott's dedication to family. 
"Wendell was dedicated to racing," Petty said. Wendell Scott told him he wanted to make a living and "send his kids to college." 
Petty said he got into racing "because my dad [Lee Petty] was racing." He started working on cars when he was 11 or 12, and he started driving at age 21. It was like being a farmer's son who follows in his father's footsteps: "You don't know anything else."  
The crowd had some big laughs as Frank Scott recounted a time he was in a rush driving to a race in Jacksonville, Fla.: "I looked down and I'm running 95" and then saw "a state man" (a law enforcement officer). His father told him, "'Well, take him on to Daytona, then.'" There wasn't enough time to stop to get a ticket. 
"We're running 100 miles an hour. I just put it on down," following his father's orders "to take it to Daytona." Later that night, he told his father he could have gone to jail for that, and his father replied, "'I would have got you out' … He didn't never panic." 
Petty, who is from Level Cross, N.C., said he "always thought of Martinsville as being a home track," only about 65 miles from home. "We always looked forward to going to Martinsville." He won 15 races in Martinsville. 
When asked about their proudest moments, Petty replied that with all the wrecks he's been in, "I'm still sitting here." 
Wendell Scott won the 1964 Jacksonville 200, making it the first top-tier NASCAR race won by a Black driver. It was on a dirt oval track which was closed in 1069 after concerns about its safety. Petty also drove in that race. 
That track was nothing but clay and potholes, Frank Scott said, and his father "decided to soften up the suspension:" Normally there are two shocks on each wheel; he put it down to one shock on each wheel, and made other modifications. 
Wendell Scott's trophy was withheld, but eventually "We finally got my father's trophy," Frank Scott said, which the family was proud of. 
"I've always known that my grandfather made great sacrifices to provide for this family," Wendell Scott said, "and I always knew that he was a genius, especially with engineering. The Wendell Scott Foundation, our platform is engineering blended with mentoring."  
Frank Scott said once, when they were eating at a restaurant out of town, his father looked out a window and saw poor-looking children playing in a playground. He felt for those kids, and said he wanted to help children; his father's concern and charity extended to both Black and white children. 
Martinsville Speedway President Clay Campbell joined the men on the stage. "We predated NASCAR by a year," he said. "My grandfather founded the Martinsville Speedway in 1947; NASCAR was founded in 1948." 
Martinsville is the penultimate race of the season, "and it doesn't get any more intense than that," Campbell said. 
Referring to Petty's many wins of the iconic Martinsville Speedway trophy, the Ridgeway grandfather clock, Campbell said, "You don't want to be around his house when it's a quarter after, I can tell you." 
Petty "has led by example throughout the duration of his career," Warrick Scott said. "His heart, his generosity, the philanthropy that he has brought forth is … unrivaled. 
"He has certainly stepped in and filled a great void in my life as I have championed my grandfather's legacy and continued to do the work to uplift his name."