Patrick & Henry Community College Early Childhood Education program has earned the national Association for the Education of Young Children (NAEYC) accreditation – the highest level of accreditation possible for early childhood programs. P&HCC's program is one of 200+ to earn the designation in 2023.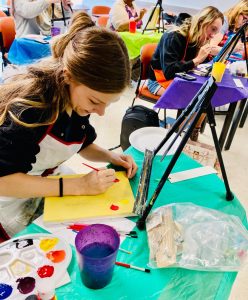 Program director Dr. Jan Harrison said, "NAEYC accreditation identifies P&HCC's Early Childhood Development program as meeting national standards for providing care and education to children, birth to age eight (or third grade). Our graduating students will bring the highest quality of standards into both private and public childcare workforce community, as well as public classrooms as licensed teachers in the state of Virginia. We are excited to provide this level of quality education for our graduating students as they transition to the childcare workforce and provide improved practices for local community programs."
NAEYC has set 10 standards for early childhood programs that can help families make the right choice when they are looking for a childcare center, preschool, or kindergarten. The standards and criteria are also the foundation of the NAEYC Accreditation system for early childhood programs. To earn accreditation, programs must meet all 10 standards: Relationships; Curriculum; Teaching; Assessment of Child Progress; Health; Staff Competencies, Preparation & Support; Families; Community Relationships; Physical Environment; and Leadership & Management.
"While many community colleges offer early childhood education credentials, only a few of these programs are NAEYC accredited. Moreover, in order for local childcare centers to seek NAEYC accreditation, they must employ graduates from NAEYC accredited programs. This has the potential to positively impact local economic development efforts as high-quality childcare for workers is always part of the recruiting equation," said P&HCC President Dr. Greg Hodges.
P&HCC's accreditation efforts were launched thanks to a generous $100,000 donation from the Davenport Foundation. "My wife and I are pleased to support this important program at Patrick & Henry Community College. Quality early childhood education is being offered at P&HCC and will make a profound difference in the future of those enrolled," said Ben Davenport.
P&HCC's Early Childhood team will host its annual Community Connections event on Friday, October 13. Students and early childhood education community members are invited to attend the second annual Early Childhood Community Connections Event.  Representatives from seven collaborative colleges (Longwood University, Old Dominion University, Radford University, George Mason University, Bluefield University, James Madison University, and Virginia Commonwealth University) will share information about their programs and the required steps students need to take to successfully transfer to their colleges and will also answer any questions students may have.  The event will be held in Frith Exhibit Hall from 5:30 – 7:30 p.m.
"Our annual community connections event is focused on students who are interested in working with children or becoming licensed teachers in the state of Virginia. The event will feature our seven transfer universities, as well as community support agencies to assist students planning to enter the childcare workforce after graduation. All students interested in early childhood education or teaching are welcome and encouraged to attend," said Harrison.