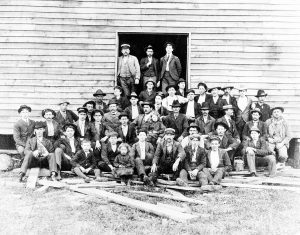 The late Lawrence R. Burton, who practiced law his entire career in Stuart, loved to share stories of the folks from Patrick County. One of his most memorable stories was about William James Law, more commonly known as "Uncle Billy," who was a frugal, thrifty man and viewed as the "unofficial" banker of the Elamsville/Fairystone community. 
It was known that "Uncle Billy" kept a stash of gold coins somewhere in his log cabin, but the location was not disclosed after his death in 1907. Probably the most successful loan that "Uncle Billy" ever made was to his first wife's nephew around 1900.The young man rode from Henry County on a mule to ask Uncle Billy for a loan to start a small furniture business. Uncle Billy listened to his business plan and agreed to loan him the gold coins, if the young man's father would endorse the note. The young man returned to Henry County to get his father's signature. 
Once the young man left, Uncle Billy retrieved the gold coins that would cover the loan. Uncle Billy's cabin was built out of logs that were approximately one foot thick. To support the shelves on the walls, holes were bored in the logs and pegs were placed in the holes. Uncle Billy had bored the holes extra deep and stored the gold coins behind the pegs. A couple of days later, the young man returned on his mule with the endorsement from his father and Uncle Billy gave him the gold coins. The endorsement signature to guarantee the loan was John Henry Bassett, the father of John D. Bassett! 
When I heard this story, being a genealogist first and foremost, my immediate thought was "first wife's nephew?" Who was William James Law's first wife and who was his wife at the time that John D. Bassett had come to ask for the loan? During my research, I discovered that William James Law AKA "Uncle Billy" first married Priscilla Ruth Spencer, who was the sister to John D. Bassett's mother, Nancy Jane Spencer. Priscilla and Nancy were the daughters of Lewis Spencer and Priscilla Adams. "Uncle Billy" and Priscilla had seven children, Drucilla Jane Law Pilson, Lewis Green "Tuck", Joshua Thomas, Nancy Elizabeth Law Foley, Martha Adeline Law Pendleton Foley, Ardena Rosabelle Law Morrison, and Lucy Law Turner. Priscilla died in childbirth on the 22nd of April 1872; she was 40 years old. 
On May 26th, 1874, Uncle Billy married Miss Judith Delilah Slaughter, the daughter of Reverend Martin Slaughter and Mary Conner Slaughter. Mary is my third great aunt and family lore passed down through the generations is that Martin and Mary gave each of their six daughters $800 in gold coins and a fine horse for their dowry. It was thought Martin and Mary's coins were buried near their spring, which was located on a ridge behind where Roberts' Lighthouse Grill is now located. 
Lawrence Burton, knowing the Bassett story about Uncle Billy having a cache of gold coins and his second wife coming with a dowry of $800 in gold coins, seems to just tie things together. I wonder if there are any more of those gold coins out there.
Woody may be reached at rockcastlecreek1@gmail.com or (276) 692-9626.
(Editor's Note: We decided to share this story from our sister paper, The Enterprise, after learning that the Martinsville-Henry County Historical Society's Sunday Afternoon Lecture, titled "Patrick County History & the Historical Society & Museum," will be held at 3 p.m. on Sunday, August 20, in the Historic Henry County Courthouse.)