The Martinsville-Henry County Historical Society will host its monthly Sunday Afternoon Lecture, "Patrick County History & the Historical Society & Museum," on Sunday, August 20, at the Historic Henry County Courthouse at 3 p.m., presented by John Reynolds, president, Patrick County Historical Society & Museum. 
Patrick County was established June 1, 1791, from the western portion of Henry County. Like its parent county, it too was named for the patriot Patrick Henry. Once the home of the Native American Wolf Creek Cherokee tribe, Patrick County has served as a frontier town, a Civil War battleground, and a present-day arts and culture destination. 
The Patrick County Historical Society was formed on December 16, 1971, with Nannie Ruth Terry as its first president. After a generous response to a fund-raising drive, a building in Stuart was purchased and renovated for a museum, and an open house was held on March 25, 1973. When the Patrick County Board of Supervisors voted to undertake the construction of a new library building for the county, the Historical Society offered to donate their museum building to the county in exchange for equal or greater space in the new building. After reaching an agreement between the two boards, the Historical Society moved to the new location in Stuart in 1991.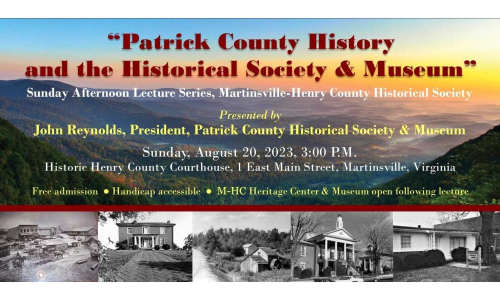 Reynolds graduated from Hardin Reynolds Memorial School. He received bachelor's and master's degrees in history from Virginia Tech. Through a grant from the National Endowment for the Humanities, he recorded oral interviews with local people and documented Patrick County's history from the early 20th century at the Reynolds Homestead. After serving as secretary of the Patrick County Historical Society for 34 years, he was elected president of the Historical Society in 2022. He served in the U. S. Army during the Vietnam War and volunteered with the local Veterans Memorial Honor Guard and American Legion Post 105. 
Admission to the Sunday Afternoon Lecture series is free, made possible by corporate sponsors, Carter Bank & Trust and The Lester Group. The Historic Henry County Courthouse is fully handicapped accessible. The Martinsville-Henry County Heritage Center & Museum will be open following the presentation.