Raja Caruth, driver of the #24 Wendell Scott Foundation Chevrolet Silverado RST for GMS Racing in the NASCAR Craftsman Truck Series, visited Martinsville High School last Friday to speak with high school and middle school students.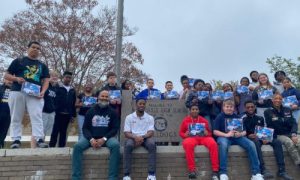 He was joined by Warrick Scott, grandson of racing legend and Danville native Wendell Scott, who was one of the first African American team owners and drivers in NASCAR and the first African American to win a Grand National Series race. 
"He is to NASCAR what Jackie Robinson was to baseball," MHS Principal Dr. Aji Dixon told students as he introduced the special program. "During those times, he had to go through a great ordeal to be able to do what he loved to do, and he broke some barriers." 
Scott, who serves as the CEO of the Wendell Scott Foundation, explained to students that the foundation was created to honor his grandfather's legacy and bring hope and heroism to underserved communities. Caruth engaged in a conversation with the students, answering questions on topics ranging from his favorite racetrack to what car he drives when he isn't racing and even included a discussion of Lightning McQueen, a character from the Pixar film Cars. 
Caruth said McQueen inspired him to go into racing. He also discussed the importance of going outside of your comfort zone to achieve success. 
"I'm a very reserved person," he admitted. "So, it was an adjustment for me because you have to put your name out there and work with social media and go to events, sell your story." 
Caruth emphasized that the advice he was giving could help students succeed with whatever goals they choose to pursue, even outside of NASCAR.
 "If you want this, then you've got to do whatever it takes," Caruth said. "The early mornings, the late nights, and everything in between, you have to put that toward the goal that you have set out."