Moriah Hairston, of Martinsville, recently completed her final shift as a cashier in Food Lion, and on Monday began the first week of her second year of classes in a master's degree program in France.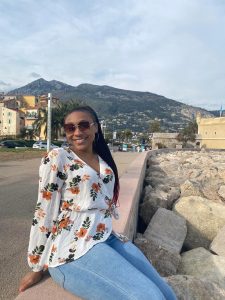 The 2017 graduate of Magna Vista High School studies cognitive science at the Université Côte d'Azur with intentions to continue on to medical school in France. She is the daughter of Eric and Amy Hairston and Tina Hairston, all of Martinsville.
Moriah Hairston's direction and goals were sparked by two key experiences in her life: a high school trip to France, and her grandmother's journey with dementia.
Her grandmother, the late Lois Hairston, had always been a smart woman, she said.
"She always had something to say, but as time went on, she began talking less and less. With her last few years of living, I know personally, and from watching Amy taking care of her, it can really take a toll on someone personally and mentally.
"Throughout that time, I just became interested in the brain and how it works," she said. She even shadowed neurologist Dr. Francis Walsh when she was in high school.
The experience inspired her to study cognitive science, the study of thought, learning, and mental organization.
FRANCE
Hairston fell in love with France when she went there on a school field trip in 2016. Her father and stepmother went along.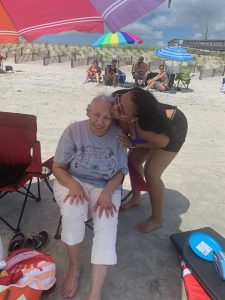 Led by teachers Karen Knopp of MVHS and Mrs. Beth Jones of Bassett High School, the tour group visited several cities over the course of 11 days.
That sparked in her the desire to study abroad, she said. There wasn't time to do that in college, though, which she finished a year early.
Hairston graduated from the University of Virginia in 2020 with a bachelor's degree in cognitive science with a concentration in neuroscience, on the pre-med track.
After college, she spent two years working as a language assistant teacher in France, in Millau, about an hour from Paris, in the first year, and Orleans, about 90 minutes away from Montpellier, the second.
"I wanted to be sure that this is where I could be and live," she said – and those two years told her that yes, it was the place.
SCHOOL
Her university is "laid out on a few different campuses," as far as a 75-minute travel distance, she said. However, most are within a 15- to 20-minute bus ride. "Once I did learn the better way of getting there by foot, I started walking there a 30-minute walk, which I preferred."
The cost of higher education in France is much lower than it is in America, and that difference "is the most important to me."
The cost of her master's education is 5,000 euros – about $5,500 – a year, "which to French people is expensive, but for us is not expensive at all. … It's easily $300 to $400 to $500 a year for other master's programs."
Health care is similarly financially accessible, she said. While a lot of people in the U.S. will put off seeing a doctor for problems because of concerns about the cost, in France that is not a barrier.
All French citizens and any foreigner with a visa get a "Carte Vitale," "basically an insurance that anyone has to have."
She didn't even have to pay for it, she said, and when she was hospitalized for an accident, she didn't have to pay any medical treatment costs. A normal visit to the doctor would require a co-pay of only 25 euros ($27.35).
The health care system "is just very good. It allows people who might not have as much as others to still get the help and care they need from medical professionals."
LIFESTYLE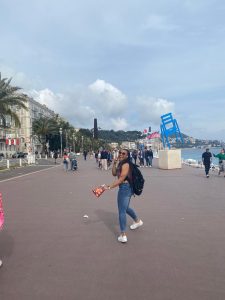 Hairston is a fan of public transportation in France. You can get practically anywhere conveniently and cheaply, she said.
For just 5 euros – about $5.50 – a person can buy a bus pass that covers unlimited rides on most of the area routes for a full year, she said.
"The ease of travel … is not limited to France," she said. Trips to Spain, Italy, Germany, and other countries are convenient and inexpensive.
"That's the part I love the most and look forward to while living there," she said.
And as she makes her way around town, or in other countries, she does it dressed just a bit better than she may have done back home.
The French don't dress as casually as Americans do, she said, so while there "I might throw on some jeans and a fitted top" for the same type of outing that she'd be comfortable wearing sweatpants and a T-shirt to in Martinsville.
"They have more of an awareness of just not being sloppy when going out," she said. "I don't think sweatpants and a T-shirt are sloppy," but the French would.
LANGUAGES
Hairston said she has not experienced the haughtiness French people are known for in America, but that's probably because she makes an effort with the language – she has seen other Americans who don't put in an effort to speak basic courteous French be slighted.
"From the very beginning, even when my French was a bit limited, I would always say 'Hello' and apologize that 'My French isn't great, but we're going to try, but if not, we're going to switch to English'" if the other speaker would be willing or able to. "That has helped me not to have many issues or attitudes coming from them.
"I had other friends who didn't speak French and would get those attitudes," but that's not surprising if the visitor to the country has not made an effort to learn some of the language. "It's just little things. They don't expect you to be fluent, but it's respectful to know those little phrases."
In France, it's common to hear different languages spoken and it's common for Europeans to speak more than one language. "I admire that. I love that, and I wish we had more people here in the U.S. who would like to do that and would take pride in speaking more languages."
When students are in high school, she advised, they should listen to the different languages that are offered in classes and "choose the best one for you. Take it seriously."
FOOD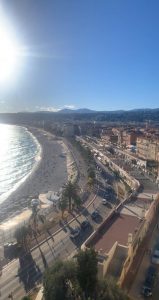 In France, the quality of food is better, she said – not the seasonings, but the ingredients such as meats, fruits, and vegetables.
She is a fan of the pizza and pasta there, but she misses some American foods.
"My Southern sides are going to show," she laughed: She has been missing chitterlings, a standard on the holiday table back home. She also misses hibachi grills and Japanese foods which, she said, are probably available, but she just hasn't found them yet.
OPPORTUNITIES
Hairston lives in France during the school year and returns for the summers and when her grandmother passed away. This summer she worked at Food Lion.
She advises other parents to "encourage your children to go out and experience things. If it wasn't for my dad and Amy" and that high school trip to France, "I wouldn't have been interested. If there's an opportunity to take your kids, take them so they can see other places, so they can experience other people and cultures."
Anyone who is interested in living and working or studying abroad should look into social media groups, such as Facebook, where information and tips are shared. "Once you start," it's easy to find more and more help, she said.
The website www.campusfrance.org was of great help to her, she said. It gives information on programs and has part of the application process as well as advisors who help make sure everything is in order. Once a program is chosen, "they test you to make sure you are capable and prepared. Once that happens, you get papers and documents and start the application process of receiving a visa."
Getting the visa was the most stressful part of the process, she said. Though the closest French embassy is in Washington D.C., the wait for an appointment would have taken too long, so instead she got her visa at the embassy in Miami.
She knows her parents miss her, but "they know this is my dream. This is one of the things I've been most sure about doing in life, and where I want to be, and they support it all the way."