Mandy Muse was named the City of Martinsville's new director of Water Resources to fill a vacancy created with the Aug. 1 retirement of Mike Kahle, who left the post after 15 years of service to the city.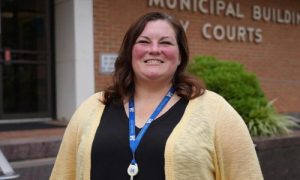 In the slot, Muse, 41, said she is responsible for overseeing the operations of the water treatment plant, wastewater treatment plant, and the water and sewer maintenance and construction crews.
"Any project involving water lines, water tanks, sewer lines to make sure that everything is going according to plan and that all regulations are being followed. And that our customers have safe drinking water and sanitary sewers," she said.
Muse said her primary goal is to ensure city residents are getting the same or better quality of water and service they are used to. In addition to working out a 20-year plan for the department, Muse is also still working on developing other long-term goals. 
"I'm just continuously seeking out opportunities for improvement where available," she said.
Muse said the department is currently almost finished with the Summit View Waterline Project, which includes a waterline that serves the Chatham Heights area while eliminating the Summit View Tank.
Additionally, "we are getting ready to begin our Jones Creek Sewer Interceptor Project," Muse said, and explained the project consists of "repairing (and) replacing the sewer lines in the Jones Creek Interceptor. It's outdated and needs some repairs, so we're going to basically replace it beside the existing line."
Muse said she believes the city's water and wastewater crews are underappreciated because what they do is out of sight and therefore out of mind.
"But we really do have some great crews that are dedicated to our citizens, and I appreciate them," she said.
During her transition into the post, Muse said things have gone well overall and there are no concerns of note.
"It's just a matter of getting settled in and making sure that everything transitions from Mike over to myself. You know, just making sure that it's as seamless a transition as possible," she said.
Muse said the biggest difference between her current position and her former role as the Environmental Compliance Officer is the broader scope of work.
"Where I was basically only monitoring industrial discharges to ensure that they weren't discharging anything that was above the contamination limits in their permits, this new role that I'm taking on will oversee all water resources, so it's a much wider scope of work," Muse said.
She graduated from Mountain Empire Community College (MECC) in May with a degree in environmental science specializing in water and wastewater. She is currently working towards her wastewater license and preparing to sit for her Class 1 Wastewater Operator License. 
She has worked for the city for eight and a half years, and with the Water Resources Department for four years as the Environmental Compliance Officer. Before joining the water department, she served as the city's Utilities Billing Systems Analyst. 
In her free time, Muse enjoys fishing, spending time with her family, being outdoors, and crocheting.