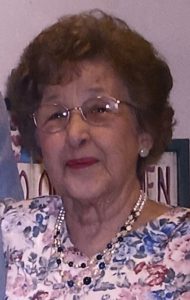 Mildred Spencer Gusler, age 97, of Martinsville, Va. passed away on August 28, 2023.  She was born on August 19, 1926, in Franklin County, Va. to the late Thomas Albert and Betty Spencer.
In addition to her parents, she was preceded in death by her loving husband, George W. Gusler and her sister, Alice Shorter.
Mildred leaves behind a legacy of love, kindness and devotion.  Mildred will be deeply missed by her son, Donnie W. Gusler (Marsha); her four grandchildren, Lisa Ann Shelton, Alysia Nicole Spencer (Keith Sink), Brandy Nicole Deatherage (Chad) and Kenny Wayne Gusler (Nacole); 10 great grandchildren, Edward Michael Shelton, Jordan Briann Shelton, Cameron David Spencer, Alexis Nicole Spencer, Nicholas Tyler Rea, Kyleigh Lene Gusler, Nathaniel Chase Gusler, Easton Linc Ferguson, Keelan Reece Goolsby, Journey Grace Roberts; her great-great-granddaughter, Riley Saige Akers; and special caregiver Bonnie Pendleton.
Mildred attended Henry High School and furthered her education at Ferrum College.  She valued education and believed in the importance of lifelong learning.
Mildred was a beloved member of her community and will be remembered for her warm and loving nature.  She was cherished by all who knew her.  Mildred had a zest for life and enjoyed traveling, walking and gardening.  Above all, she cherished the time spent with grandchildren and great grandchildren.
In her professional life, Mildred dedicated 20 years of service to the old Martinsville General Hospital and Memorial Hospital.  She began as a secretary and later transitioned to bookkeeping and general office work.  Her commitment and hard work were greatly appreciated by her colleagues and the hospital staff.
Mildred was a member of the United Methodist Church.  She found solace and strength in her faith throughout her life.
When she wasn't working or spending time with her loved ones, Mildred enjoyed working with flowers and taking leisurely walks.  These simple pleasures brought her joy and allowed her to appreciate the beauty of the world around her.
The family and friends of Mildred Gusler gathered to honor her life and share memories on Friday, September 1, 2023 at McKee-Stone Funeral Home.  Visitation started at 11:00 am, followed by the funeral at noon which was officiated by Pastor Chris Bennett.  Interment followed at Roselawn Burial Park.
In lieu of flowers, the family requests donations be made to a charity of your choice in memory of Mildred.
May her soul rest in peace and may her memory be a source of comfort and inspiration to all who knew her.
McKee-Stone Funeral Home, Martinsville, Va. is serving the family.
To express condolences online, please visit www.collinsmckeestonemartinsville.com