The Martinsville City Council at its October 4 meeting approved giving $35,000 in American Rescue Plan Act (ARPA) funds to help operate the Martinsville-Henry County Warming Center.
The West Piedmont Better Housing Coalition (WPBHC) will serve as the fiscal agent for the center, which will serve as a separate project under the auspices of the WPBHC.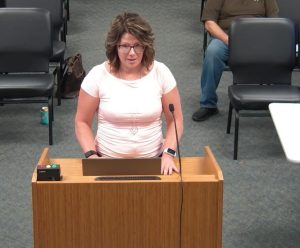 Barbara Seymour, chairman of the Emergency Housing & Community Support Commission, said a separate project accounting and banking will be maintained for the center. 
"They will have human resource oversight for the staff, and they will manage the facility agreement with the Salvation Army," she said.
Seymour said the $35,000 will include funding for the seasonal lease expense of $17,500, and $9,100, or one-third of the salary and benefits line item.
The center will have three paid staff, a center director that's a full-time position, and two coordinators that are part-time positions.
"Client services which include such things as transportation and laundry at $3,800 and food and beverage expenses at $4,600," she said.
Seymour said the center will provide monthly reports on any individual served from outside the Martinsville-Henry County area, and "how these people were assisted to obtain housing support and identify any needs."
The center will operate to provide temperature-dependent, essential overnight accommodations to the unhoused community members, Seymour said.
"This overnight center provides individuals with a hot dinner and breakfast, a place to rest and recuperate, and an access point to additional community services which can assist them in obtaining stability and health," she said.
The center will operate 30 beds when temperatures are forecast to dip below 40 degrees Fahrenheit. 
The hours of operation will be from 7 p.m. and 8 a.m., with guest intake from 7-9 p.m. There will be exceptions made for public safety officials who present guests after 9 p.m.
"Guest departure is at 8 a.m., but that may be extended if inclement weather, staffing, or other conditions are met. The warming center is open to unhoused individuals. No weapons are allowed, and drug and alcohol use are forbidden," she said.
As registration in the Homeless Information Management System is required by the U.S. Department of Urban Housing and Development, Seymour said guests must be amenable to that.

The MHC Warming Center is preparing for the season that begins Nov. 1. Currently, several items are needed, including flat sheets – preferably twin size; cough drops; towels, toiletry items, and others.  
For a complete list or more information, call (276) 207-9660 or email operations@mhcwarmingcenter.org.
In other matters, the council:
*Approved the consent agenda.
*Approved recognizing October 2023 as Domestic Violence Awareness Month.
*Approved a resolution to appoint and provide correct terms of office for Directors of the Industrial Development Authority (IDA).
*Approved amending the Martinsville City Code to install and operate photo speed monitoring devices within school crossing zones for the purpose of recording violations to the Code of Virginia.
*Approved allocating money to acquire a generator for Martinsville Middle School.
*Approved a request to purchase a side-by-side with capital savings. 
*Approved allocating money from APRA to make up the remainder of the difference from the Pup Grant from the Harvest Foundation for the renovation of the Spruce Street Tennis Courts into a combined tennis and pickleball court.
Councilmember Kathy Lawson did not attend the meeting.