Under the guidance of teacher Beverly Woody, members of the Martinsville Middle School Debate & Speech Team will present and defend their choices of the most influential American at 3 p.m. on Sunday, September 17 in the Historic Henry County Courthouse.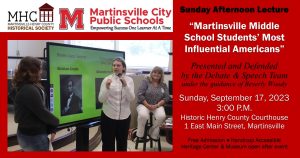 The program is part of the Martinsville-Henry County Historical Society's monthly Sunday Afternoon Lecture.
This past spring, sixth graders engaged in a history debate. Working in teams, the students researched different historical figures and presented arguments to support their choices.  As teams of history students debated, sixth grade English classes in the audience listened carefully and made their own selections for the most influential figure from each debate. These cross-curricular projects are designed to synthesize a range of essential skills the students have built over the school year, including research, public speaking, and critical thinking at a higher level.
Woody serves as regent of the Patrick Henry Chapter of the Daughters of the American Revolution and on the Board of Directors of the Patrick County Historical Society & Museum and on the Board Development Committee of the Martinsville-Henry County Historical Society. She was named Teacher of the Year 2023 by the Veterans of Foreign Wars (VFW).  
"History is so much more than just remembering facts and dates," Woody said previously. "When we study our history, we build a connection between the past and the future."
John Phillips, Historical Society President, said, "The school project was so creative and successful that the Historical Society is excited to provide a platform for the students to share their efforts with the public.  Join us in support of our youth. They just might change your mind of the most influential American."
Admission to the Sunday Afternoon Lecture series is free, made possible by corporate sponsors, Carter Bank & Trust and The Lester Group.  The Historic Henry County Courthouse is fully handicapped accessible. The Martinsville-Henry County Heritage Center & Museum will be open following the presentation.