Candidates for local and state offices and city and county officials were among those paying homage Tuesday to Del. Danny Marshall for his 22 years of service to Martinsville and Henry County. 
Beginning in January, Marshall's service area will include areas in Pittsylvania and Halifax counties and the City of Danville as a result of redistricting.
Because he was battling pneumonia, Marshall, R-Danville, attended the event via Zoom. 
Marshall was presented with a proclamation from the county. 
Marshall's long-time aide, Mary Franklin, who attended in his stead, was also honored for her service.  
The event was not publicized.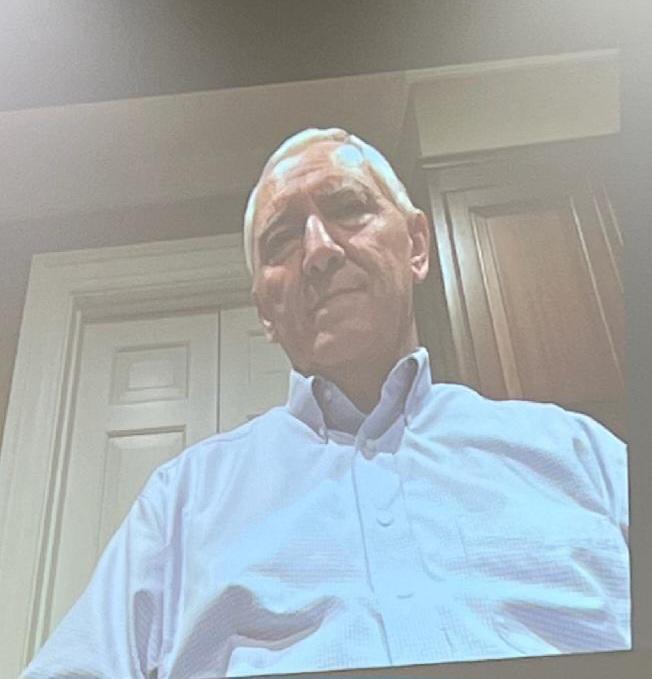 The Henry County-Martinsville Republican Committee hosted the dinner event at the New College Institute. 
Eric Phillips, chairman of the GOP committee, said "We didn't invite any press purposefully," in part because Marshall shies away from accolades and because the event "really wasn't a political rally."
He noted that many of the candidates seeking office locally run as independent candidates, unattached to either party.
Dels. Les Adams, R-Chatham, and Wren Williams, R-Stuart, were among those attending the event, as was former congressman Virgil H. Goode.
Candidates for local office included Mary Martin, who is seeking the at-large seat on the Henry County School Board and Sheriff Wayne Davis; Gordon Metz and Pam Cobbler, the two candidates for the Reed Creek District on the Henry County Board of Supervisors; Stephanie Brinegar, who is seeking the Horsepasture District seat on the Henry County School Board, incumbent Henry County Treasurer Scott Grindstaff, and others.
Two members of the Henry County Board of Supervisors attended the event – Jim Adams and Debra Buchanan, along with several members of Martinsville City Council, including Mayor LC Jones, Vice Mayor Aaron Rawls, Kathy Lawson, and Tammy Pearson.