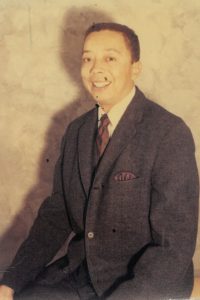 Malcolm (Pete) S. Goolsby Jr. 94, of Martinsville, VA passed away on Tuesday, July 18, 2023, at Mulberry Creek Nursing Home. He was born August 4, 1928, in Williamson, WV to the late Malcolm S. Goolsby and Dolas Webster Goolsby. He was also preceded in death by his son: David Goolsby, daughter: Kathy Goolsby, sisters: Doretha Smith, Frances Jacobs, Roselle Clemons, and Catherine Thurman, brothers Dewey Goolsby, and Don Goolsby.
Malcolm worked at the Mountaineer Hotel in Williamson, WV, and later worked on the railroad as a Conductor. He loved watching the West Virginia Mountaineer football and basketball teams play. He was of the Baptist Faith.
His sons survive Mr. Goolsby: Harold Goolsby of Portsmouth, OH, and Michael Scott Goolsby, sister: Brenda Helm of Woodbury, MN. Many grandchildren and great-grandchildren also survive him. Also, several nieces and nephews including Arlene Taylor, Chris Johnson, Susan Horton, Robin Artis, Sherry Patrick, Paul Jacobs, Michelle Helm, Kimberly Helm, and Brandon Clemons, Stuart Miles.
There will be a graveside service on Friday, July 21 at 2:00 pm at Henry Memorial Park, Bassett VA with pastor David Deisher officiating. Norris Funeral Services, Martinsville, VA is serving the Goolsby family. Online condolences may be made at norrisfuneral.com.