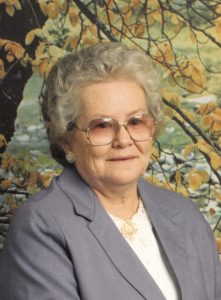 Mabel Atheline Bollings Barbour, 93, of Martinsville, VA passed away Sunday, June 11, 2023. She was born March 11, 1930, in Franklin County, VA to the late William Maston Bollings and Sarah Edna Robertson Bollings. In addition to her parents, she was preceded in death by her husband, Garnett Barbour; sons, Eddie Barbour and Keith Barbour; two sisters, and three brothers.
She is survived by her children, Daniel Barbour (Peggy), William "Billy" Barbour," Dianne Hall (Pete), Gary Barbour (Betty), Janet Bowles (Dennis), Lloyd Barbour (Becky), Kenneth Barbour, Dean Barbour (Pansy), Linda Martin, Terry Barbour, and Sharon Wilson (Jeffrey); twenty-five grandchildren, forty-nine great-grandchildren, five great-great-grandchildren, and sisters-in-law, Faye Bollings, Brenda Bollings, and Janice Bollings.
Visitation will be held from 6 to 8 p.m. Wednesday, June 14, 2023, at Norris Funeral Services, Martinsville Chapel and other times at Mabel's home. Graveside service will be at 11 a.m. Thursday, June 15, 2023, at Mount Ivy Christian Church Cemetery, Moneta, VA with Minister David Deisher officiating.
Norris Funeral Services, Martinsville, VA is serving the Barbour family. Online condolences may be made at norrisfuneral.com.