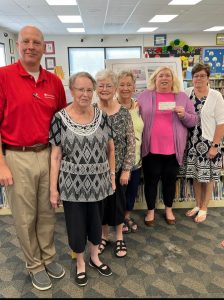 Woodmen Life, a life insurance agency in Martinsville, donated $500 to the Bassett branch of the Blue Ridge Regional Library (BRRL) on Aug. 16.
Lewis and Betty "Boots" Turner, co-chairs of the Project Steering Committee, said the donation will be used to help with the Bassett Library expansion project.
"We have a $2.25 million project which includes renovations of the existing facility and adds to it some 4,000 square feet of space for the library," he said.
The expansion will increase the library from 6,000 square feet to 10,000 square feet.
Betty Turner said construction on the project cannot start until all funds needed for the project are in hand.
Lewis Turner believes the necessary funds will be acquired in about two years. 
So far, the organization has raised $450,000.
"That's on the support from foundations that we will be applying to as well as donations from people in the community and people who have an interest in Bassett," he said.
Lewis Turner said Koebel, a recruiting sales manager with Woodmen Life, was interested in supporting the community and community activities.
"Mr. Koebel's child comes to the library with his homeschooling group, and he knew about the library through his child," Betty Turner said.
Those wishing to donate can send cash or a check for the Bassett Library Expansion Project Fund at 3969 Fairystone Park Highway, Bassett, VA 24055.