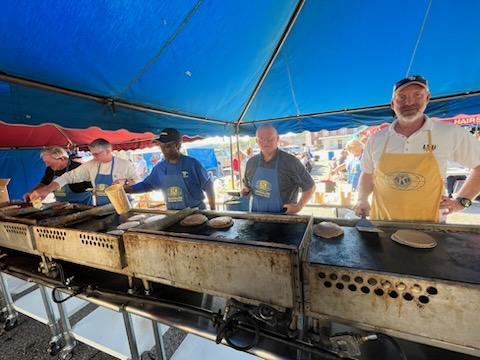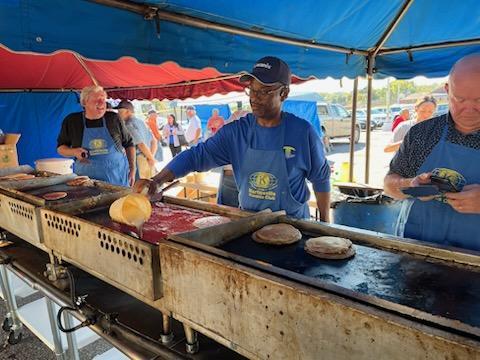 The Martinsville Kiwanis Club celebrated its 70th annual Pancake Day on Thursday, Oct. 12.
Sam Nichols, the group's "unappointed chairman of Pancake Day," said nearly 3,000 people were served during the 'all you can eat' event that went from 7 a.m. to 6 p.m.
"We serve over 1,000 pounds of sausage; we serve over 1,000 pounds of pancake mix. We serve 165 12-packs of soft drink, probably 200-350 half-pints of milk," he said.
Nichols said the event funds the group, with $13,000 to $15,000 raised.
"All of our money that we make in the spring and the fall goes into kids' programs that we help fund. Nothing to individuals, or anything like that, just to groups," he said.
Funds will go towards the Boys & Girls Club, United Way, Virginia Museum of Natural History, Boy Scouts of America, Smith River Sports Complex, RoosterWalk, Patrick & Henry Community College (P&HCC), the Henry County Food Bank, and other organizations..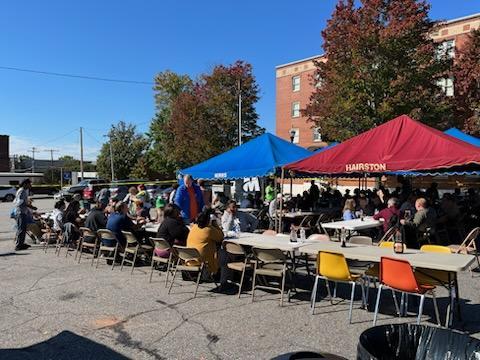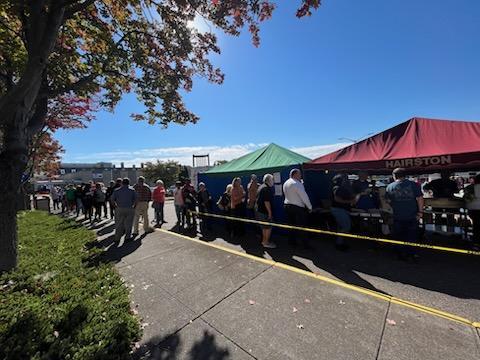 The organization also funds two $1,000 scholarships annually to students at local schools.
"We ask them to do an essay, and we give them a topic, and then we have a committee that sees who's the best two," he said.
Nichols said the Kiwanis Club has volunteer help for the event and partnered with P&HCC which provided student volunteers.
"The baseball team came last night and helped us set up, and the basketball team and someone else from P&HCC is coming this evening to help us take down," he said, adding that like a circus, "we set up the night before, and the next night we tear it down and gone."
Nichols said the group recently purchased new stainless-steel tables for the welding and fabrication department at P&HCC, where students "modified them, put wheels on them. (That made it so we could level them and put them together. So, when we get through in the evening, we can just basically leave the grills right on there and run it right up into a trailer and away we go."
For more information, go to www.Facebook.com/KiwanisClubofMartinsville,VA or email info@kiwanismhc.org. Those interested in joining the club may pick up an application at Martinsville Family Dentistry.