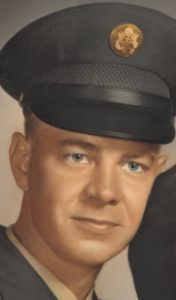 John Kenneth Arrington, of Callands, passed away Thursday, August 3, 2023, at Sovah-Martinsville Hospital. He is survived by his wife, Betty.
Kenneth retired from Goodyear Tire and Rubber and was a veteran and member of Liberty Baptist Church. Kenneth was a loving man who never spoke an unkind word about anyone. He loved all and would do anything for you if you needed.
Betty and Kenneth were high school sweethearts. They worked alongside each other, supporting each other through the years of their lives as married couples should always seek to do.
In addition to his wife, he leaves behind a sister, Debra; nephew, Jerome (Sherry); nieces, Lynn (Robert), Susan, Lee (Kenneth), and Andrea (Donald); sisters-in-law, Priscilla and Claire; great-nieces and nephews, and great-great-niece and nephew. He was preceded in death by his mother and father, John and Lena Arrington and his brother, Melvin.
The memorial service will be held at 3 p.m. on Sunday, August 6, 2023, at Liberty Baptist Church, Franklin Turnpike, Callands. Visitation will be from 2-2:45 p.m. prior to the service.
The family asks for no visitation or food at the home and no flowers. In lieu of flowers, please make a charitable donation to the Callands Fire Dept. or to the Danville Humane Society in memory of Kenneth.
Norris Funeral Services, Martinsville, VA is serving the Arrington family. Online condolences may be made at norrisfuneral.com.