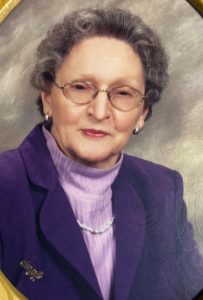 Joan Prillaman Barnes, 89, of Martinsville, Va. passed away Sunday, August 13, 2023.  She was born October 27, 1933, to Henry Wilson Prillaman and Mamie Carter Prillaman.
In addition to her parents, she was preceded in death by her husband Franklin R. Barnes; daughter, Deborah Joan Barnes; daughter-in-law, Brenda Barnes.
She is survived by three sons, Mitch Barnes and Danny Barnes, all of Martinsville, Jeff Barnes and wife, Teresa of Bassett; grandchildren, Scott Barnes and wife, Tamara, Amy Boyd, Magen Lindsey (Jeremy) and Haley Barnes; great-grandchildren, Katelin and Kaydla Boyd, Brendon Barnes, Jaxon and Aiden Inman, Paisley Tyler and Wyatt Lindsey; sister, Doris Hundley (Richard) and brothers, Lowell Prillaman (Aubrey) and Curtis Prillaman (Ann).
Joan loved her family dearly and enjoyed gardening, canning and cooking for them.
She was a faithful member of McCabe Memorial Baptist Church for over 60 years. She loved her church and church family.  While able, she was very active in the church along with her husband.  She taught Sunday school and was always in church whenever there was any activity there.
The funeral service was held at 12:00 pm on Friday, August 18, 2023, at McCabe Memorial Baptist Church and was officiated by Reverend G.H. Vaughn and Reverend Lewis Harris. Interment was at Roselawn Burial Park.  The family received friends one hour prior to the service.
Arrangements are by McKee-Stone Funeral Home in Martinsville.
To express condolences online, please visit www.collinsmckeestonemartinsville.com.