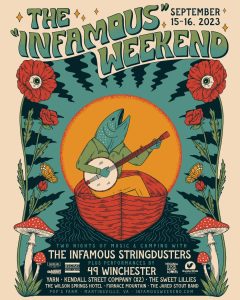 Grammy-winning progressive bluegrass band The Infamous Stringdusters and nonprofit Rooster Walk Inc. are teaming up this fall to create The Infamous Weekend, a two-day, family friendly "mini-fest" at Pop's Farm in Martinsville, Va. 
The new event, slated for Sept. 15-16 at Pop's Farm, home of the Rooster Walk Music & Arts Festival, will feature four headlining sets from the 'Dusters, along with performances by 49 Winchester, Yarn, Kendall Street Company, The Sweet Lillies, The Wilson Springs Hotel, Furnace Mountain and The Jared Stout Band.
"We are so excited about The Infamous Weekend," said Johnny Buck, executive director of Rooster Walk Inc. "We've had the 'Dusters many times at our festival; they always put on a fantastic show, and they're great to work with. This is going to be an amazing, affordable, intimate experience for the fans, and there's no better venue in the Commonwealth for it than Pop's Farm."
The Stringdusters were host band of the Virginia-based Festy Experience music festival each October for many years. In addition, the Rooster Walk Reunion music festival took place at Pop's Farm in October 2021 as COVID restrictions began to be relaxed in Virginia. Reunion was a one-time, scaled-down version of the Rooster Walk Music & Arts Festival, but the fans loved it.
"Ever since we put on that one Rooster Walk Reunion a couple years ago, our fans have been asking us, 'When are you going to do another fall camping event at Pop's Farm?'" said Buck. "I know the 'Dusters' fans have been asking them the same kind of thing for years now. It's really a perfect pairing, Rooster Walk and the 'Dusters. We're going to keep a small footprint on the event this fall, with plans of growing it every year going forward. It's exciting."
Fans at The Infamous Weekend will enjoy on-site camping, food, art and craft vendors, outdoor excursions and children's activities, among other attractions. The event will feature two active stages – the Lawn Stage and the Pine Grove Stage – while the entire venue will be open to camping and on-site parking.
Tickets are available through a presale now, and tickets will become available to the public starting at 10 am Friday, May 19. For more information about the event, tickets, and Pop's Farm, visit www.infamousweekend.com.