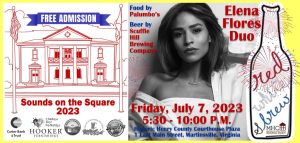 The Martinsville-Henry County Historical Society will sponsor "Red, White, & Brew with Elena Flores Duo" as part of Sounds on the Square on Friday, July 7, at 7 p.m., on the Plaza of the Historic Henry County Courthouse. 
Admission is free. Beginning at 5:30 p.m., Scuffle Hill Brewing Company will serve craft beer and wine in a non-disposable, collectable event cup, and Palumbo's will sell food. Wear your most patriotic attire as we observe America's 247th birthday. Sparklers will be provided for a special expression and group song of American pride. Bring a blanket or lawn chair – holiday decorations welcome.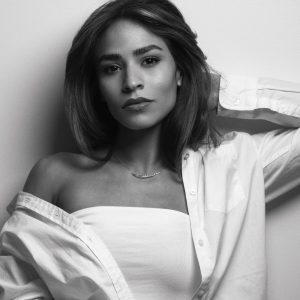 Originally from Stafford, Virginia, Elena Flores is a singer/songwriter and performing artist residing in Greensboro, North Carolina. Her artistic approach is shaped from a diverse and dynamic musical background as well as years of formal training. She has a love for emotive melodies and honest expressions, and catches refrains that stem from musical influences like The Beatles, The Supremes, and Queen. She strives for vocal versatility and honest performance as she seeks to touch the hearts of others through music. She holds bachelor's and master's degrees in vocal performance. 
John Phillips, Historical Society President, said, "We should all agree that Independence Day is worth celebrating more than just one day. Wear your best patriotic colors and join us as we come together as a community to celebrate our nation's birth. Join us for a relaxing evening and let Palumbo's cook your supper, Scuffle Hill quench your thirst, and Elena provide your entertainment." 
"Sounds on the Square" is coordinated by the Martinsville-Henry County Historical Society and sponsored by Carter Bank & Trust, Children First Pediatrics, Hooker Furnishings, The Lester Group, and Sarver Cleaning Services. Enjoyed by patrons of all ages, generations, and cultures, the remaining schedule includes August 4, September 1, and October 6. The Historic Henry County Courthouse and Plaza are fully handicap accessible.