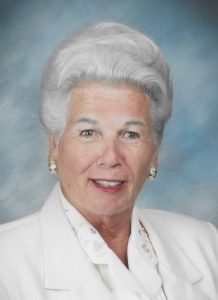 Hannah Glading Shelton, 92, of Martinsville, VA passed away on Friday, March 24, 2023, at Sovah Health of Martinsville and Henry County. She was born on March 6, 1931, in Coatesville, Pennsylvania to the late Frank W. Glading and Anne Moore Glading. In addition to her parents, she is preceded in death by her daughter, Anne Moore Shelton; son, Maynard "Chip" Haile Shelton, III; and her brother, Frank W. Glading.
Hannah was a longtime member of Christ Episcopal Church, Martinsville Garden Club, Martinsville Charity League, Daughters of the American Revolution, Martinsville Book Club and Altar Guild of Christ Episcopal Church. Hannah was a graduate of West Hampton University.
She is survived by her daughter, Frances Shelton Heim (Sherry Renee Morris) of Louisa, VA; sons, Frank Glading Shelton of Martinsville, VA, and Markley Louis Shelton (Lisa Renea Shelton) of Ridgeway, VA; grandchildren, James Michael Heim, Anne Moore Heim, Meghan Elizabeth Shelton, and Nina Maria Pariser; and two great-granddaughters, Amelia Skye Elkins, and Rayna Rose Garluck.
A memorial service will be held on Tuesday, March 28, 2023, at 11:00 a.m. at Christ Episcopal Church with Rector John Adams officiating. Interment will follow the service at Roselawn Burial Park.
In lieu of flowers, donations may be made to the SPCA of Martinsville-Henry County, 132 Joseph Martin Hwy., Martinsville, VA 24112.
Norris Funeral Services, Martinsville, VA is serving the Shelton family. Online condolences may be made at norrisfuneral.com.