At the end of the show, my daughter and her friend ran up to the actors and asked, "Which was it? Was he guilty or not?"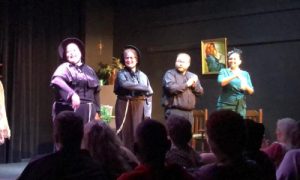 You've got to work it out yourself, CJ Bowman told her. He's the actor who plays Father Flynn. That's the whole point of the play, he pointed out – as indicated by its name, "Doubt: A Parable."
We saw TheatreWorks Community Players' "Doubt" Saturday night, and if you haven't seen it yet, you still have a chance – It will be on at 7 tonight (Friday, Oct. 20) and Saturday, and at 2 p.m. Sunday. Tickets are at www.twcp.net. The play is in the Black Box Theatre at 44 Franklin St., Martinsville, and Joanie McPeak is its masterful director.
Father Flynn is an unconventional priest in this 1960s Catholic school. His sermons include contemporaneous topics, such as political unrest in the wake of President Kennedy assassination. He coaches the boys in basketball and has an approachable, informal rapport with his students.
The show is a rollercoaster of thought. One moment you're entirely sure Father Flynn is guilty of seducing 12-year-old Donald, as the nuns think he is, and you're caught in the turmoil of how the nuns can stop his wrongdoings in their 1960s world where men are in charge and protect each other by giving little to no credence to women. The next, you see the situation between the student and priest in a whole new light, as Father Flynn gives his explanation of what is going on – it seems that, after all, he really is just helping the boy, who is ostracized in the school as the only Black student.
Whether or not Father Flynn did what the nuns think he did was the kids' big question, and that would have been my big question as well – and certainly, it had me all twisted up – but I couldn't keep my eyes off the stern but deeply caring Sister Aloysius. Who in the world was that actress portraying her?
After years of seeing most TheatreWorks and Patriot Players shows, I'm well familiar with the regular actors and actresses and singers. This seemed to be a new one, though when I had looked at the cast posters when we went in, they were mostly of people who have acted before – Elisabet Minter, who plays Sister James, and CJ Bowman, who plays Father Flynn, and whoever was Sister Aloysius, who for the life of me I couldn't remember while watching the show. This show does have a newcomer, Odesia Millner, but she'd be up on the stage later as Mrs. Muller.
At the intermission I quickly opened the playbook and looked for that actress. It was Valerie Bowling! I've known her for years, having seen her both on and off stage, but I sure didn't know her on the stage that Saturday night.  
So the second half of the show I spent analyzing Sister Aloysius constantly, trying to catch a glimpse of Valerie inside. The character was so different from the actress, in both looks and movement, that I still had a hard time recognizing her.
I was touched by Sister James' new-teacher enthusiasm for her craft and her students. I was perplexed by Father Flynn, who sometimes had me seeing him as a dedicated priest and teacher who knows how to reach children but at other times had me questioning his motives. I was in awe of Mrs. Muller's grace and elegance and her do-what-it-takes fight to help make a way in the world for her son, who had a lot going against him, none of it his fault.
Is it a case of a clergyman taking advantage of a vulnerable young boy?
Or does the priest go out of his way to guide and protect a child who needs that protection, only to be unjustly accused of unspeakable wrongdoing?
The characters struggle with understanding what is happening, with the ultimate goal of protecting the boy – but all have different ideas of what that protection entails.
As the play's author, John Patrick Shanley, put it in 2005 in his forward to the play: "Doubt requires more courage than conviction does, and more energy; because conviction is a resting place and doubt is infinite – it is a passionate exercise. You may come out of my play uncertain. You may want to be sure. Look down on that feeling. We've got to learn to live with a full measure of uncertainty. There is no last word. That's the silence under the chatter of our time."
There are three more performances of this show; don't miss it.