Olivia Garrett has joined New College Institute as its Director of Institutional Advancement.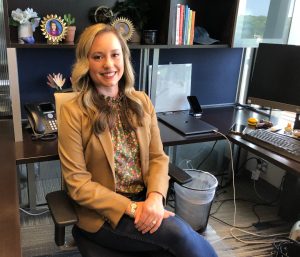 The Martinsville resident will guide NCI through strategic leadership, government and community relations, and grant management. 
Garrett grew up in West Virginia and South Carolina. She is a 2012 graduate of the University of South Carolina with a degree in social work and in 2013 earned a master's degree in social work from Virginia Commonwealth University, specializing in administration, policy and planning.
After college, she was the chief of staff and campaign manager for Del. Betsy Carr in the Virginia House of Delegates, and she worked in marketing and fundraising for a couple of years.
From August 2022 to August 2023, she was the Regional Programs Specialist for the West Piedmont Planning District Commission (WPPDC). The Commission covers the counties of Henry, Patrick, Franklin and Pittsylvania and the cities of Martinsville and Danville. There, she worked on a variety of programs focusing on tourism, marketing the area's outdoor recreation and agriculture, strengthening the local health care workforce and managing infrastructure projects. 
Through the WPPDC she was familiar with the Virginia Telecommunication Initiative (VATI). VATI funds the expansion of broadband internet throughout all unserved and underserved areas of Virginia, and the WPPDC administers VATI's grants.
Now at NCI, she will see the next generation of fiber optic technicians who will install and service those fiber optic lines that will bring this high-quality internet across the state. In the fall, NCI will begin training programs in fiber optics to prepare this workforce.
"I'm excited to be with NCI as we train future fiber optics technicians," Garrett said. "The fiber optics field is booming and offers great paying jobs in high demand. A student who goes through NCI's CFOT program can make over $60,000 upon graduation. What a wonderful opportunity for students and our local economy." 
Garrett is the treasurer of the Bee City Committee – "I'm very passionate about pollinators and increasing the number of native plants in our area" – the second vice president of Piedmont Arts, a member of the Community Foundation's Women in Philanthropy, a member of the Martinsville Garden Club, in the 2023 cohort of the Virginia Rural Leadership Institute and a new board member of Uptown Partnership.
She and her husband, Martinsville native Pres Garrett, married in 2015 and moved to Martinsville in 2020. The couple have two children, Nellie, 4, and Ward, 2 ½. Pres Garrett owns Starling Avenue Cards and Comics.
"New College Institute is fortunate to have Olivia Garrett join our ranks," said NCI Executive Director Joe Sumner. "She is a vibrant and important part of Martinsville and Henry County life through her various forms of community involvement. As part of an established local family and heavily involved in the community through Piedmont Arts, Bee City, Community Foundation and other organizations, Olivia Garrett has made her mark on Martinsville, and we enjoy having her can-do spirit here at New College Institute."
"I'm excited to promote NCI, engage elected officials and community members, and help people understand all the great things that NCI is doing in the community and on the state level. NCI is playing a pivotal role in getting more folks into the advanced manufacturing pipeline as well as giving students access to four-year college institutions right here in Uptown Martinsville," Garrett said.
"Overall, I hope to be a positive force at NCI and in the Uptown community and look forward to promoting both NCI and Martinsville to the greater region and Commonwealth."