Eddie Garcia's belief in a better tomorrow prompted him to challenge the status quo and take on incumbent Sen. Tim Kaine, D-Richmond, in the November election. A self-described conservative Republican, Garcia considers faith, family, and community a priority.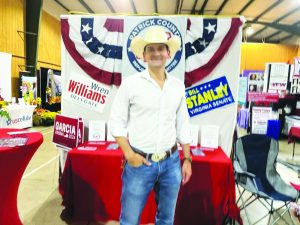 "I believe that America's best days are ahead of it if we have leaders who are focused on working people across the nation, and specifically across Virginia," he said during a stop last week in Patrick County.
To be successful and reverse some of the economic problems across the U.S. and Virginia, Garcia believes the government needs to concentrate on rural America and blue-collar workers of all backgrounds and persuasions.
"We got to bring jobs and opportunities back to smaller towns to start to rebuild them, and hopefully when we do that, there'll be less of an inflow into some of these overpopulated population centers like Northern Virginia," he said.
There, Garcia said the number of people and workers makes it difficult to find housing and jobs that support the expensive cost of living prevalent in the area.
"So, we're kind of in a bad scenario on both sides," he said. "I think to reverse that, we got to have a blue-collar agenda outside of the population center. We got to focus on rural America and rural Virginia."
Garcia said he talks about jobs and opportunities more than anything else because he thinks if the United States is strong domestically, it can be strong internationally. 
"I think America's struggling right now internationally because we're so weak domestically," he said. "We've got to reengineer the outsourcing, and offshoring that we've seen take place over the last 30 years." 
To do that, Garcia said the U.S. needs to grow job sectors it can lean on in a future economy, such as robotics, cyber security, industry, artificial intelligence, and machine learning. 
A sensible energy policy will lessen or end the country's current dependency on foreign powers for oil and other energy sources, Garcia said.
"I believe we need a lower 48-state nuclear energy program that connects all lower 48-states," he said of the program that would "drive down the cost of energy overall, employ people in the next 30 years because it's going to build out. I think that's how we start to reengineer what's been hollowed out for 30 years."
While it may take "30 years to bring back, you got to start now," he said, adding he doesn't think anyone in D.C. is focusing on solutions.
Education
Garcia is running on a national school-choice voucher program.
"I think that the purpose of education is for the betterment of the child, and right now there's a lot of money that comes from the federal government that gets split off in a variety of places before it gets to the education of that child," he said.
Through the school voucher program, Garcia wants to give a voucher, money for a child, directly to the parents so they can decide what they want to do.
"If they want to homeschool their kid, they can cash in that voucher and homeschool their kid," he said.
For example, Garcia said he and his wife homeschooled their two daughters for two years. At the same time, the Arlington Public School District received nearly $20,000 per child per year. 
"So, $ 40,000-year number one, and $ 40,000-year number two," he said. "We didn't get a tax break, we didn't get a deduction, we didn't qualify for any programs, we had to pay for all the curriculum and all the supplies from our own pocket. Meanwhile, the $40,000 still went to the public school system." 
Garcia said those funds could help a parent who earns about $40,000 a year in a regular job and is sending her two children to a failing public school.
"She could be able to stay, homeschool her kids, collect the same amount of money, and actually spend time and educate her kids; raise her kids," he said.
As a family and faith conservative, Garcia said families should be encouraged to spend as much time with their children as possible "as that's how children learn the best."
If families don't want to homeschool their children, Garcia said the vouchers can subsidize private schools, charter schools, and other alternative school types. 
With this program, Garcia said class sizes in public schools will be reduced because fewer children would attend public schools. This will allow for more adult supervision, more quality learning, and fewer distractions for those remaining students.
Term-Limits
Garcia said incumbents win nearly 90 percent of all elections, partially because they spend their entire time in public office raising money. Others spend time working for their families and futures.
He believes setting and enforcing term limits would level the playing field in campaign finances and fundraising by allowing voters to elect people who represent them, their values, and their interests.
"I will fight for term limits and provide an opportunity for regular people to represent the working class of this nation," he said.
Affordable Housing
Garcia said he will do three things to help solve the affordable housing crisis, first by expanding the low-income tax credit for affordable housing, which doesn't punish recipients from seeking higher incomes and better employment as other programs do.
"Second, I will introduce a bill that takes $2 billion of the nearly $4 billion currently designated for Community Development Block grants in the Housing and Urban Development Appropriations Bill and require that that money be spent specifically on affordable housing developments, all across the nation," he said.
Finally, with the creation of this new fund, Garcia would stipulate that the funds be released only if the state and local government can fast-track affordable housing developments within a 24-month time frame, he said.
Garcia said housing development projects currently take an estimated five years between submission and the actual breaking of ground.
"My plan reduces that length of time and increases housing availability. It brings more homes to the market and affordable housing to workers who can't afford to live in the cities that they work in. This is how we solve problems," he said.
Garcia, an Army veteran who served for 22 years, completed six combat deployments, three in Iraq and three in Afghanistan. He was also a member of the special operations community for 14 years, where he commanded paratroopers in the 82nd Airborne Divisions. 
Following his active-duty service, Garcia spent five years serving as a national security advisor and legislative liaison where he worked with policy experts, legislators, and the Pentagon to pass legislation on national security, the welfare of veterans, and Gold Star families. 
Garcia has a B.A. in Business Administration and an M.A. in Information Technology from the University of Maryland Global Campus. He also has an M.A. in Legislative Affairs from George Washington University.