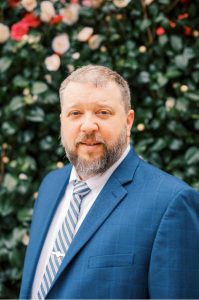 Mike Minter is seeking the Henry County Treasurer position in the Nov. 7 election, facing off against incumbent Scott Grindstaff and David Moore, who also is seeking the position.
A lifelong resident of Henry County, Minter said he decided to run to help the community and make it thrive. 
"I actually worked in government for Congressman (Virgil) Goode in the 1990s, and I came home to become an educator. I taught history and government, but I've always had my eye on how I can help the community," he said.
Over the past five years, Minter has operated the Career Academy, which helps students in getting career minded and employment.
"I felt like now's the time in my life when I can actually do a passion of mine, which is working full time for Henry County to make it better for our citizens," he said.
If elected, Minter said he wants to focus on making sure people in the community feel welcomed and get assistance when going to the Treasurer's Office. 
"It needs to be an inviting place as much as anything because it's hardworking tax dollars that keep government and schools, the sheriff's office, and the police force going," he said.
Minter said residents also need to know they have someone in office that can explain what the tax funds are used for if asked.
"The other thing is how can we make sure that we're getting all of our tax dollars for property tax, etc., that are taken in, and that we're consistent with that," he said.