Ferrum College's Bluegrass Brass Explosion Band performed the National Anthem for the NASCAR Xfinity Series race at Martinsville Speedway on Saturday, October 28.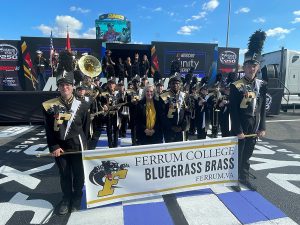 Emily Walker, student, faculty member Emily Blankenship-Tucker, and Rachel Blankenship-Tucker provided the vocal performance of the anthem accompanied by the Ferrum College's new field performance band, Bluegrass Brass. The band was announced earlier this semester as a collaboration unique to the College between Orchestra Appalachia and Ferrum Marching Band.
Ferrum College senior Ryon Johnson was excited to have such a huge opportunity. 
"It was a nerve-wracking experience for me, but I would not trade it for the world. It shows what I am capable of doing under immense pressure, and it's good to branch out and get well-rounded experiences. I loved conducting the band before thousands of people on television and in person," Johnson said.
"The opportunity for the Ferrum College Bluegrass Brass Explosion Band to perform the National Anthem at Saturday's NASCAR Xfinity race was an extraordinary and unforgettable experience. Surrounded by the roar of engines and the electrifying atmosphere, the moment encapsulated the fusion of music, patriotism and the thrill of motorsports. The sheer magnitude of being on national television and becoming an integral part of the NASCAR experience was awe-inspiring for our students," said Dr. Mirta Martin, president of the college.
"We would like to thank Mr. Clay Campbell for the opportunity to be part of the NASCAR experience. The band members and vocalists created an unforgettable moment where the unique sound of bluegrass brass and motorsports intertwined. Performing on a national stage gave this new, collaborative ensemble a sense of pride and accomplishment and the thrill of being part of something greater than themselves," she said.
Bluegrass Brass will be performing at the College's last home football game of the season on Saturday, November 4 during the halftime show.