The Martinsville City Council selected Aretha R. Ferrell-Benavides as the new City Manager. At its meeting on Tuesday, September 26, the council unanimously approved an employment agreement with Ferrell-Benavides.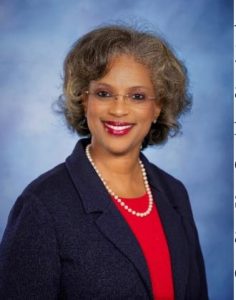 Most recently the City Manager of Duncanville, Texas, Ferrell-Benavides previously served as City Manager in Petersburg, Virginia, and Glenn Heights, Texas. She succeeds Leon Towarnicki, who retired in August after forty-one total years of service to the city, including the last ten years as the City Manager.  
"We are excited to welcome Ms. Aretha Ferrell-Benavides to our community. Aretha brings a plethora of experience in local government, economic development, and city leadership. The council was impressed by her many achievements in the City of Petersburg Virginia and with her proven track record we are certain that she will be a valuable asset to the City of Martinsville," Mayor L.C. Jones said.  
A national search was conducted for the new city manager, with the city assisted by The Berkley Group, of Bridgewater, Virginia. The Berkley Group received applications and conducted initial interviews with the most qualified candidates, and assisted in selecting finalists for interviews with the Council.
The council expressed their appreciation for the services of Interim City Manager Glen Adams, as they completed the search for a new city manager.  
Ferrell-Benavides received a Bachelor of Arts degree in Political Science from Southern University and an MPA from Howard University. She completed the Senior Executive Institute at the University of Virginia, the Inter-governmental Executive Development Program at Harold Washington College, and the Executive Leadership Institute through the National Forum for Black Public Administrators. Ms. Ferrell-Benavides is a member of the International City and County Management Association (ICMA), the National Forum for Black Public Administrators (NFBPA), and a Fellow of the National Academy of Public Administration.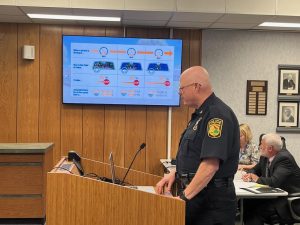 "The City Council has a great vision for the community that is focused on good government and enhancing the quality of life for residents," Ferrell-Benavides said. "I particularly look forward to working with local and regional partners on important revitalization and economic development projects. I appreciate the confidence that the Council has shown in me. I am looking forward to getting settled in the city and getting to know and serve the employees and citizens of Martinsville," she continued.  
Ferrell-Benavides will assume her duties as Martinsville City Manager in early October.  
In other matters, the council:
*Adopted a proposed ordinance regarding camera speed monitoring and enforcement in school zones. Martinsville City Chief of Police Robert Fincher said there would be two cameras, one for each lane of traffic.
The fine for speeding would be $100 and citations would be mailed to offenders. The tickets will not go against drivers on their driving record and can be fought in court.
"The layout of our schools has made traditional speed enforcement efforts difficult, if not somewhat dangerous in certain areas," Fincher said. "Some of the areas we can do more traditional methods of the police car running radar, but some of them such as like in front of the middle school, in front of the high school, at Patrick Henry (Patrick & Henry Community College), and directly in front of Albert Harris (Elementary School), it becomes dangerous."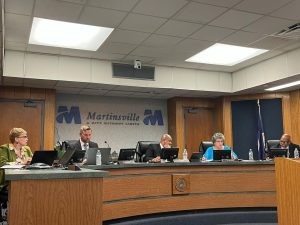 Fincher said chasing after a speeder makes the police do what the department doesn't want others to do – speed through a school zone.
"But two, if we run into a situation where someone is wanted or that they have other intentions, the last thing we want to do is have disasters happen in front of the school kids," he said.
Fincher said localities that have enacted a similar ordinance and use it have experienced a 94 percent reduction in violators.
*Appointed Martha Gretchen Wickliffe Citizens Advisory Board.
*Approved the meeting minutes.
*Recognized city employees who are eligible for service awards for July 1-September 31, 2023, for their years of service to the city.
*Read a proclamation naming April 19 to April 22, 2024, as Earth Day weekend.
*Scheduled a public hearing for Oct. 24, 2023, to consider setting a public hearing regarding the city's possible participation in the Commercial Property Assessed Clean Energy Program (C-PACE) program.
*Approved the Industrial Revitalization Funds resolution for One Ellsworth, for mixed-use housing and commercial spaces.
*Heard an update on services and programs from the Blue Ridge Regional Library.
*Heard information relating to the Alliance for National and Community Resilience (ANCR).
*Tabled approving a resolution to appoint and provide correct terms of office for Directors of the Industrial Development Authority until the Oct. 24 meeting.
*Approved the Housing Development Consultant Agreement.
*Heard from Fincher on projects that would help transportation and other public works projects.