Bassett Community Center's Family Fall Festival is set for Saturday, September 30 from 11 a.m. to 5 p.m.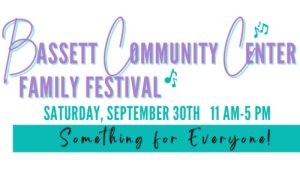 Linda Crabtree, President of the center's Board of Trustees, said this is the first time the festival has been held.
"We wanted to just get community impact so that they know that we're trying to do this. We have a project to renovate the swimming pool and building and get the building up to date," she said.
Crabtree said the group thought this would be a good way to do that and have a fun day for the community to enjoy.
"We invite everyone to come and participate and have a good day," she said.
The festival's main attraction is the concert set to be held from 1-5 p.m. in the center's gymnasium.
The Southern Gentlemen, a bluegrass band, will perform from 1-2 p.m., and Jimmy Wilson, a Willie Nelson Tribute, will take the stage from 2-3 p.m.
Motown Legacy, the festival's headlining act, will then perform from 3-5 p.m.
Tickets are $10 in advance, or $12 at the gate, and can be purchased by using Zelle.
There will also be a cornhole tournament. The cost to participate is $10 per team. Food vendors, free children's games, carnival rides for small children, and bouncy houses will also be onsite. 
For more information, go to Facebook.com/SavetheBassettCommunityCenter, or call (276) 629-6748.