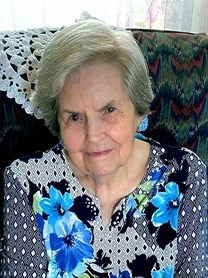 Ethel Hundley Jamison, 93, of Martinsville, Va. went home to be with the Lord on September 6, 2023. She was born and raised in the Figsboro area of Franklin County on September 20, 1929, to Clifford Benjamin Hundley and Nannie Mason Hundley.
She was preceded in death by her parents; her sisters, Hazel Elizabeth Jamison, Irene Young Sutton and Betty Louise Stilwell; her brothers, James Clifford Hundley and Johnny Edwin Hundley; her late husband, Woodrow Wilson Jamison.
She is survived by her children; Mildred Bush (Gary) of Kingsport, Tenn., Sharon McGhee (Mac) of Elliston, Va., and Timothy Jamison of Martinsville, Va.;  five grandchildren, Celeste Holler (Brady) of Southern Pines, N.C., Sara Miramontes (Eric) of Johnson City, Tenn., Danielle Hale (Chris) of Blacksburg, Va., Christian and Isabella Jamison of Martinsville, Va.; six great-grandchildren, Nate, Eli, and Maddie Holler, Mila Miramontes, Taylor and Caleb Blankenship; her sister, Becky Ann Eanes; her brothers, Harry J. Hundley and Robert B. Hundley all of Martinsville, Va.; also many nieces, nephews, cousins and friends.
She served in several churches in Joplin, Springfield, and Louisburg Missouri, Tazewell, Tennessee, Christiansburg and Roanoke Virginia. She was very active in Christian women's fellowship groups including Sunday school teacher, choir member and church secretary. She was a member of Rich Acres Christian Church.
She was a graduate of Rocky Mount High School in 1947. She received several business certificates from Patrick & Henry Community College. She worked as a bookkeeper for many years with Farmer's Supply Company in Martinsville, a telegraph operator and manager with Western Union Telegraph Company. She retired in 1989 from First Baptist Church where she served as their financial secretary for 14 years.
A visitation will be held from 1:00 to 2:00 pm on Saturday, September 9, 2023, at McKee Stone Funeral Home.  A funeral service will follow at the funeral home at 2:00 pm and will be officiated by Pastor Tim Hunt. A private entombment will be held at a later date.
In lieu of flowers, donations may be made to the Martinsville Volunteer Fire Company, 65 West Church Street, Martinsville, Va. or the Martinsville Henry County SPCA, 132 Joseph Martin Hwy, Martinsville, VA 24112
McKee-Stone Funeral Home, Martinsville, Va. is serving the family.
To express condolences online, please visit www.collinsmckeestonemartinsville.com.