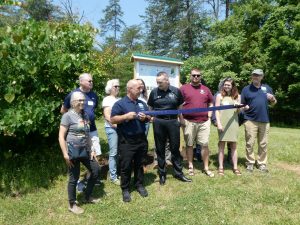 Nearly 100 people from both Virginia and North Carolina attended the Dan River Basin Association (DRBA)'s Annual Celebration last week to mark the organization's accomplishments, honor those receiving annual volunteer awards, and hear from guest speaker, Spencer Tassone.
In his Ph.D. dissertation completed this past spring at the University of Virginia, Tassone, a Postdoctoral Scholar in the Department of Biological Sciences at Michigan Technological University, examined how climate change is impacting the frequency of heatwaves in rivers, estuaries, and coastal sediments throughout the United States. 
Along with publishing in peer-reviewed scientific journals, his research has been featured across numerous media outlets including Fox Weather, Utah Public Radio, Science News Magazine, the Coastal Current Podcast, and the Chesapeake Bay Journal. Tassone's research also has helped to inform public policy by partnering with the Chesapeake Bay Program on a Science and Technical Advisory
Committee. This committee focused on examining the ecological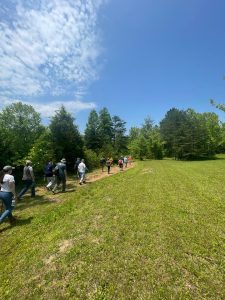 implications of rising water temperatures and developing management strategies to address these challenges.
"The Dan River Basin Association is an excellent community leader that improves and advances environmental education, recreation, and stewardship," said Tassone. "It was exciting to share my research with this informed and dedicated group."
Mark Estes, president of DRBA's Board of Directors and emcee for the event that was held at the Patrick & Henry Community College (P&HCC) in Martinsville, discussed DRBA's mission. 
"The Dan River Basin Association continues to set the standard for giving back to our Dan River Region. I can think of no other group of supporters, volunteers, and talented staff that have accomplished so much over the past twenty-one years," Estes said. "I am excited about the future as we look for even more opportunities to promote our natural resources through our core mission of education, recreation, and stewardship. That is what we are celebrating."
His speech was followed by an organizational update presented by DRBA staff members Tiffany Haworth, Melissa Mericle, Brian Williams, Krista Hodges, and Anna Wheeler.
"As many of you know, DRBA's mission is to preserve and promote the natural and cultural resources of the Dan River Basin through recreation, education, and stewardship programs and services. Our service area is roughly the size of the state of Delaware and covers 16 counties – 8 in Virginia and 8 in N.C.," said Haworth, executive director. "On January 1, we started off the year with 129 projects and as of today, we've added almost another dozen projects to our list. 
"We could not do any of this important work however without our dedicated Board of Directors, almost 1,000 volunteers, and of course, our dedicated donors who support DRBA," she added.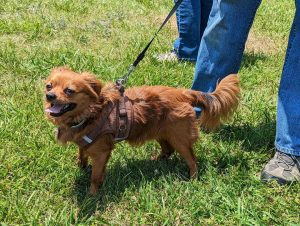 The event included a musical performance of "Song of the Dan," written and performed by Angela Upchurch, who was accompanied by her son Jameson Harris. Upchurch lives in Milton, N.C., and she has been inspired by some of the stories and people from Milton's past to write storytelling songs as an entertaining way to share the town's history.
Chris Adcock announced the 2023 DRBA Annual Awards, with Service Awards presented to Jessica Driver, Valencia Abbott, and Keith Elliott. 
The Volunteer of the Year award was presented to Sonya Wolen, of Danville.
DRBA also presented its annual Partnership Award to the Tourism Development Authority of Rockingham County (TDA). The Pickle & Ash restaurant, located in Patrick Springs, received the 2023 Corporate Award.
A ribbon cutting of the Patrick & Henry County Beaver Creek Campus Trail capped off the event. The addition is a new 2+ mile trail constructed to connect to the existing P&HCC Loop Trail. 
The trail project was funded by the Eco Ambassador Council, which is a group of regional businesses that support environmental projects. Members include Blair Construction, Carter Bank & Trust, Clark Oil & Gas, Frith Construction, Hooker Furnishings, Jones & DeShon Orthodontics, Lester Group, and Pickle & Ash.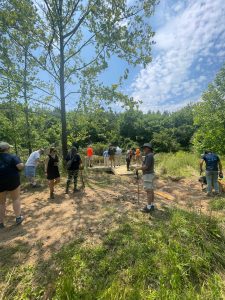 Businesses located in the Dan River watershed are invited to join the leadership group year-round.
"Patrick & Henry Community College is extremely grateful to DRBA and the Eco Ambassador Council for their efforts in creating the P&HCC Beaver Creek Campus Trail," said Greg Hodges, president of the college. "These partners have worked for weeks to construct a new trail measuring more than two miles in length which creates yet another incredible community asset on the campus of P&HCC. Our students and the communities that we serve will enjoy the fruit of this work for decades."
Guests were encouraged to have lunch locally and then return to the P&HCC campus to hike the new trail. More than 30 people returned and gathered for the hike. 
DRBA helps plan and construct trails, parks, and river access points in the 3,300 square miles of the Dan River Basin watershed. To learn more about DRBA and its recreation, education, and stewardship programs that protect and preserve our local natural resources, visit www.danriver.org.