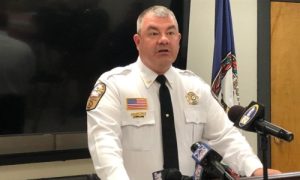 The four Henry County deputies placed on administrative leave without pay in July were terminated last week, at the conclusion of an internal investigation.
Sheriff Wayne Davis said in a release that the internal investigation "found that all four deputies violated multiple agency policies."
Their posts were terminated effective Aug. 25, according to the release.
On July 7, Davis held a press conference about a "concerning use of force incident" that he said had taken place at the Henry County Adult Detention Center on July 1.
Then, a man was arrested for being drunk in public and brought into the jail, Davis has said. 
The man was "intoxicated and very uncooperative," Davis has said, adding the man refused to change into a jail-issued uniform. 
"That situation ultimately escalated and resulted in Henry County deputies using force on the subject," Davis has said. "As a result, the subject (man) was injured."
After the incident, Davis contacted the Virginia State Police and requested an investigation into the incident. At the time, he also placed the four deputies involved in the incident on administrative leave without pay pending the outcome of the investigation, and announced an internal review would be conducted.
The incident has been referred to a special prosecutor to determine what, if any, criminal charges are applicable, Davis said in the release.
Due to personnel and confidentiality issues, the deputies involved in the incident have not been named.
Nearly 100 new deputies were hired to help staff the $73 million 400-bed jail that opened in March 2022.