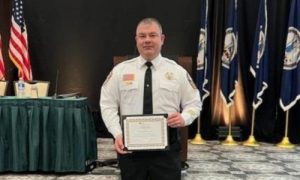 Henry County Sheriff's Col. Wayne Davis was presented with the Virginia Sheriff's Institute Certification at last week's annual Virginia Sheriff's Institute Spring Conference. The Virginia Sheriff's Institute Certification recognizes the great strides law enforcement officers take to continually improve and expand their professional knowledge and acknowledges an ongoing commitment to excellence in their field.
The program promotes, recognizes, and elevates the continued individual professional development of Virginia's sheriffs and deputies. Sheriffs and deputies serving in the Commonwealth of Virginia carry immense responsibilities as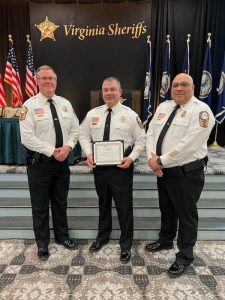 the guardians of their communities, providing effective public safety services balanced with the fair and equitable treatment of every individual they encounter. 
"The men and women who have completed this voluntary certification program should be proud of their lifelong commitment to professional development," said Chesterfield County Sheriff Karl S. Leonard, president of the Virginia Sheriffs' Institute. "I congratulate each participant for demonstrating their commitment to professionalism, growth and learning within the law enforcement field. By obtaining this certification, sheriffs and deputies show their dedication to being equipped with the latest information and training on current issues and challenges for which law enforcement officials are responsible for addressing."
The VSI Certification Program was developed by the Virginia Sheriffs' Institute (VSI) in cooperation with the Virginia Sheriffs' Association (VSA), the Performance Management Group at the L. Douglas Wilder School of Government and Public Affairs at the Virginia Commonwealth University (VCU) and the Virginia Center for Policing Innovation (VCPI).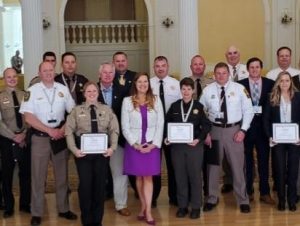 The VSI Certification Program is the first of its kind in the nation and was developed to recognize the efforts of Virginia's sheriffs and deputies to enhance and develop their individual leadership and law enforcement skills. Certification is achieved through a combination of leadership, education, training, law enforcement instruction, and work experience. Sheriffs and deputies who achieve certification have demonstrated an ongoing commitment to professionalism and leadership in their community.