The Martinsville-Henry County Historical Society will sponsor "Courthouse Crawling with Sue Ann Ehmann," a line dancing event as part of Sounds on the Square on Friday, September 1, at 7 p.m., on the Plaza of the Historic Henry County Courthouse. 
Admission is free.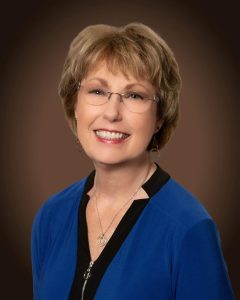 Ehmann, line dance extraordinaire, will lead the crowd of all levels, from beginner to expert. Beginning at 5:30 p.m., special line dancing DJ Mary Kaye Johnson will provide music. Also, Scuffle Hill Brewing Company will serve craft beer and wine in collectable event cups. Ella's Eats will sell Southern comfort food, and Bahama Sno-Shack will sell frozen treats. 
John Phillips, Historical Society President, said, "Sounds on the Square revives the historical significance of courthouses serving as places to gather socially, and folks will not be able to remain in their seats for Courthouse Crawling. The Historical Society proudly offers this community outreach series free of charge as a means of sharing a local landmark, the Historic Henry County Courthouse, while bringing together friends and neighbors from near and far." 
Country line dancing appears to have originated in Europe and arrived in the United States with the settlers who immigrated to America. It evolved from the English country dances, or contra dances, that were danced in the New England states in the early 1800s. Today's country line dancing was probably born in Nashville, Tennessee, when the song "Achy Breaky Heart" by Billy Ray Cyrus became a huge hit in 1992, and country line dancing was catapulted into the mainstream.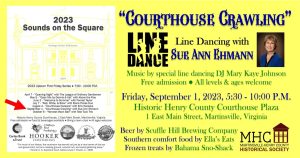 Ehmann graduated from Patrick County High School and studied communications at the University of Miami. She began dancing in 1990 with the Carolina Shag. She moved into line dancing, and since 2005, has been teaching line dance classes on a regular basis in Virginia and North Carolina. She attends workshops frequently to remain current. Her choreographed dances have won at JG Marathon, an annual international event. She has been featured in Linedancer Magazine. Ehmann and her husband, Ron Brammer, reside in the Stella community. 
In a recent interview, Ehmann said, "Line dancing is a whole other world. New dances are written every single day." She said line dancing has many benefits for her and is a dance that people of any age can learn. It improves balance and stability, is great exercise, and is thought by scientists to be beneficial to people with Parkinson's symptoms and in staving off Alzheimer's Disease, she added. 
"Sounds on the Square" is coordinated by the Martinsville-Henry County Historical Society and sponsored by Carter Bank & Trust, Children First Pediatrics, Hooker Furnishings, The Lester Group, and Sarver Cleaning Services. The Historic Henry County Courthouse and Plaza are fully handicap accessible. The Martinsville-Henry County Heritage Center & Museum will be open during the event.