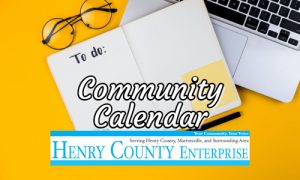 (Event information/calendar items must be received by 5 p.m. on the Tuesday before the desired publication date. Email to dhall@theenterprise.net.)
Meetings
The Martinsville-Henry County Lions Club regularly meets on the second and fourth Tuesdays of each month at 6:30 p.m. at the Pacific Bay Restaurant, 530 Commonwealth Blvd, Martinsville.
AWANA meets at Blackberry Baptist Church on Sundays, from 4-6 p.m.
Monday, November 20
The Patrick & Henry Community College (P&HCC) Board Budget & Finance Committee will meet at 11:30 a.m. in Room 124 in the Frith Economic Development Center. This is a public meeting, but the committee will not receive public comment.
The Patrick & Henry Community College (P&HCC) Board Academic & Student Affairs Committee will meet at 11:30 a.m. in Room 145 in the Frith Economic Development Center. This is a public meeting, but the committee will not receive public comment.
The Patrick & Henry Community College (P&HCC) Board will meet at 12: 30 p.m. in the Hooker Exhibit Hall, Frith Economic Development Center. This is a public meeting, but the committee will not receive public comment.
Events
Friday, November 17
Theatre [in the] Works presents All The Fixins! Hold up Rudolph, 7 p.m. for all ages and 9 p.m., 18 and over, $5 at the door, TheatreWorks Community Players, 44 Franklin Street, UPTown Martinsville.
Saturday, November 18
Martinsville Uptown Farmers' Market is open from 7 a.m. to noon, with the freshest fruits and veggies, homemade snacks, locally raised beef, and more. July 5-September 27, the market is open Wednesdays from 7 a.m. to noon.
Thursday, November 30
Piedmont Arts will kick off the holiday season at 4 p.m. with the annual lighting of the Art Garden Christmas tree in the Gravely-Lester Art Garden. This free event will feature holiday music by the Martinsville High School Jazz Band and the First Baptist Church Choir, Gale Buck: Storytelling Santa, hot chocolate and crafts. Just like the sculptures in the Art Garden, the Christmas tree will be a work of art. Created by Ian Hogg using more than 3,000 lights, the tree will be lit at sunset and brighten the Art Garden through New Year's Day.
Friday, December 1
The MHC Historical Society's annual Christmas Music Program will be held from 7-8 p.m., at the Historic Henry County Courthouse at 1 E. Main St, as part of that evening's North Pole Jingle in uptown Martinsville. Featured performers will be Valeria Edwards, Joanne Linscott, John Fulcher, Beth Chapman, Virginia King, Davis Scott, Regula Daily and Lynn Pritchett. Peter Marshall will give remarks on the history of Christmas music.
Sunday, December 3
Roanoke Symphony Holiday Pops Spectacular, 3 p.m. in the Martinsville High School Auditorium. The most highly anticipated holiday event of the season returns with an all-new matinee performance. This year, David Stewart Wiley conducts the Holiday Pops. Altrusa will collect non-perishable food items for Grace Network in the lobby during the symphony's performance. Tickets are $30 for reserved seating, $20 for general admission, and $5 for students. Tickets are available for purchase at the museum or at PiedmontArts.org.
Friday, December 8
Music Night at the Spencer-Penn Centre. The Country Boys will play in Alumni Hall. Gate opens at 5 pm with the band starting at 6:15 p.m. Admission is a $5 CASH donation. Concessions, including our ever-popular Spencer Penn hotdogs, will be sold. 
Saturday, December 9
Dinner, crafts, hot cocoa, and a movie, plus photos with Santa, Spencer Penn Centre.  Pre-registration is required.  $20 for members and $25 for non-members.
ONGOING
The 28th annual Coat Drive for Kids is underway. Anyone wishing to donate a new or gently used coat may call Horsepasture District Supervisor Debra Buchanan, organizer of the event, at (276) 358-1463. Drop coats off at Hollywood Cinema or One-Hour Martinizing on Rives Road. The deadline for donations is Nov. 30.
Registration for Upward Basketball and Cheerleading for youngsters aged 5 years through 5th grade, until Nov. 30. Practices begin Jan. 6, with a first game on Jan. 27 and the last game set for March 16. Cost is $65. All practices and games are held at Fort Trial Baptist Church, 170 Oak Level Road, Stanleytown. For more information, call (276) 629-2964 or pastordreed81@gmail.com.
The Bassett Ruritan Club hosts Rook Music & More on Fridays from 10 a.m. – noon. Play Rook, work puzzles, make a craft and listen to a mixture of bluegrass, country & gospel music by different bands each week. If you want, you can bring a snack to share. This event is free to the public. Any donations received will go to the Bassett Ruritan Club to pay for electricity etc.
Registration is underway for UPWARD Basketball and Cheerleading, for youngsters 5 years old through 5th grade, $65 each at Fort Trial Baptist Church in Stanleytown. Call (276) 629.2964 or email pastordreed81@gmail.com.
The Blue Ridge Regional Library offers free one-day passes to the Virginia Museum of Natural History and the Henry County YMCA with your library card. The passes are good for one day and exclude special events. There is a wait period before you can check out the pass again. For more details and exclusions, visit brrl.lib.va.us. 
The Fontaine Ruritan Club hosts Bingo every Tuesday at 1903 Joseph Martin Highway, Martinsville. Doors open at 5:30 and games begin at 7. Money from Bingo supports community service awards, scholarships, and other community efforts. 
Book Bingo on the 4th Tuesday of the month at the Martinsville Branch of the Blue Ridge Regional Library, 11 a.m. to noon. Call (276) 403-5430 to register. 
Medicaid eligibility renewals have resumed. Martinsville-Henry County Coalition for Health and Wellness (MHCCHW) offers Medicaid/FAMIS application and renewal assistance for Virginia residents from birth to 64 years of age in-person: Wednesdays 10 a.m.  – 1:30 p.m. at Community Storehouse, 128 E. Church St (lower level of the old Leggett Building) in Martinsville, or by phone, Monday – Friday, 8 a.m. to 5 p.m. MHCCHW's specially trained Medicaid/FAMIS Outreach Advocate is available to help. Call or text Ann Walker at (276) 732-0509 to learn more or for an appointment.
The Henry County Adult Learning Center offers free in-house and online classes to help prepare for college, career, or earn your high school equivalency or GED. Call (276) 647-9585.