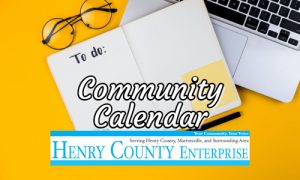 (Event information/calendar items must be received by 5 p.m. on the Tuesday before the desired publication date. Email to dhall@theenterprise.net.)
Meetings
The Martinsville-Henry County Lions Club regularly meets on the second and fourth Tuesdays of each month at 6:30 p.m. at the Pacific Bay Restaurant, 530 Commonwealth Blvd, Martinsville.
AWANA meets at Blackberry Baptist Church on Sundays, from 4-6 p.m.
Events
Friday, November 3
Exhibit Opening Reception – Venus Inferred and Z.L. Feng, 5:30 p.m. at Piedmont Arts
Join Piedmont Arts for an opening reception in honor of the museum's new exhibits. Gallery talk at 6:15 p.m. Free and open to the public. Complimentary wine and light refreshments. Live music. RSVP by October 30.
Friday, November 3 – Saturday, November 4
Yard Sale, 8 to 1 at Fieldale Recreation Center, 7 Marshall Way, Fieldale. Cash only. Lots of bargains and great Christmas gifts.
Saturday, November 4
Blackberry Baptist Church's Free Event "FALL-O-WEEN JESUS FESTIVAL," 11 a.m. – 1 p.m., featuring Four4One Quartet! Festive Foods, Kids Activities, Live Animals, Train Ride to Pumpkin Patch, Candy, Games and much more.
An afternoon of family fun is planned at "Hometown Heroes Touch A Truck Fundraiser," hosted by the Bassett Library Building Expansion Committee at HJDB Event Center and Bassett Branch Library, 3969 Fairystone Park Hwy, Bassett, from 2-6 p.m. Children 2 & under are free. Child's wristbands are $10; Adult $5 to touch everything. We will have representatives from Bassett Fire Department; Bassett Rescue Squad; Henry County law enforcement; VDOT; Air Life Helicopter; Henry Co. Mobile Health Unit; AEP; PSA; & more. There will be a bouncy house and slide. Snacks and water for sale. All proceeds benefit the Bassett Library Building Expansion Fund. The rain date is Nov. 5, 2-6 p.m. Call (276) 629-2426 with questions.
Storytime at the Spencer Penn Centre, 10 a.m. This monthly program will include special readers, crafts, and other fun activities related to Falling Leaves.  Come out and join us for this free program, fit for all ages. Registration is not needed.
Friday, November 10
Music Night at the Spencer Penn Centre, with Gap Civil, to play in Alumni Hall. Gate opens at 5 p.m. with the band starting at 6:15 p.m. Admission is a $5 CASH donation. Come enjoy some great mountain music and dancing! Concessions, including our ever-popular Spencer Penn hotdogs, will be sold. 
Friday-Saturday, November 10-11
TheatreWorks Community Players Readers Theatre's version of "Hospitality Suite," an internationally renowned stage play about three men who work for an industrial lubricants firm promoting their wares at a convention hospitality suite in Wichita, Kansas, will be presented at 7 p.m. nightly in Martinsville. Tickets are $10, only available at the door. 
Sunday, November 12
"The Maps of Thomas Jefferson" by Zack Fleming: 3 p.m., at the Martinsville-Henry County Heritage Center & Museum, 1 E. Main St., Martinsville.
Tuesday, November 14
Renae "Spring Morning" Wagoner will present a Native American program, "We Are Still Here," at 10:30 a.m. in the Bassett Historical Center. Renae is of Shawnee descent and lives in Spencer. Proud of her heritage, she is honored to be able to share a part of her culture, and hopes you will look with a more insightful view of the American Indian, with perhaps a better understanding of their views and how they came to have them all while having an enjoyable morning learning something new and realizing t yes, Native Americans are still here. This program is free and open to the public and will be held in the Susan L. Adkins Memorial Meeting Room.
Saturdays through November 18
Martinsville Uptown Farmers' Market is open from 7 a.m. to noon, with the freshest fruits and veggies, homemade snacks, locally raised beef, and more. July 5-September 27, the market is open Wednesdays from 7 a.m. to noon.
ONGOING
The 28th annual Coat Drive for Kids is underway. Anyone wishing to donate a new or gently used coat may call Horsepasture District Supervisor Debra Buchanan, organizer of the event, at (276) 358-1463. Drop coats off at Hollywood Cinema or One-Hour Martinizing on Rives Road. The deadline for donations is Nov. 30.
Registration for Upward Basketball and Cheerleading for youngsters aged 5 years through 5th grade, until Nov. 30. Practices begin Jan. 6, with a first game on Jan. 27 and the last game set for March 16. Cost is $65. All practices and games are held at Fort Trial Baptist Church, 170 Oak Level Road, Stanleytown. For more information, call (276) 629-2964 or pastordreed81@gmail.com.
The Bassett Ruritan Club hosts Rook Music & More on Fridays from 10 a.m. – noon. Play Rook, work puzzles, make a craft and listen to a mixture of bluegrass, country & gospel music by different bands each week. If you want, you can bring a snack to share. This event is free to the public. Any donations received will go to the Bassett Ruritan Club to pay for electricity etc.
Registration is underway for UPWARD Basketball and Cheerleading, for youngsters 5 years old through 5th grade, $65 each at Fort Trial Baptist Church in Stanleytown. Call (276) 629.2964 or email pastordreed81@gmail.com.
The Blue Ridge Regional Library offers free one-day passes to the Virginia Museum of Natural History and the Henry County YMCA with your library card. The passes are good for one day and exclude special events. There is a wait period before you can check out the pass again. For more details and exclusions, visit brrl.lib.va.us. 
The Fontaine Ruritan Club hosts Bingo every Tuesday at 1903 Joseph Martin Highway, Martinsville. Doors open at 5:30 and games begin at 7. Money from Bingo supports community service awards, scholarships, and other community efforts. 
Book Bingo on the 4th Tuesday of the month at the Martinsville Branch of the Blue Ridge Regional Library, 11 a.m. to noon. Call (276) 403-5430 to register. 
Medicaid eligibility renewals have resumed. Martinsville-Henry County Coalition for Health and Wellness (MHCCHW) offers Medicaid/FAMIS application and renewal assistance for Virginia residents from birth to 64 years of age in-person: Wednesdays 10 a.m.  – 1:30 p.m. at Community Storehouse, 128 E. Church St (lower level of the old Leggett Building) in Martinsville, or by phone, Monday – Friday, 8 a.m. to 5 p.m. MHCCHW's specially trained Medicaid/FAMIS Outreach Advocate is available to help. Call or text Ann Walker at (276) 732-0509 to learn more or for an appointment.
The Henry County Adult Learning Center offers free in-house and online classes to help prepare for college, career, or earn your high school equivalency or GED. Call (276) 647-9585.