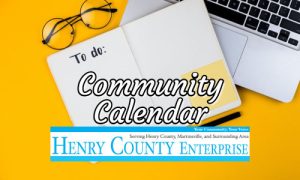 (Event information/calendar items must be received by 5 p.m. on the Tuesday before the desired publication date. Email to dhall@theenterprise.net.)
Monday, March 20
P&HCC College Board meeting will be held at 12:30 p.m. in the Hooker Exhibit Hall, Frith Economic Development Center. 
Events
Sunday March 19
Create your own barn quilt at Spencer-Penn, from noon to 4 pm. All supplies are provided. Cost varies, depending on size. Class will be filled on a first paid first served basis. Once payment is received, design choice should be sent to the instructor, Lauren, at misslaurenbyron@gmail.com. Questions may be e-mailed to Lauren at the above e-mail address or to Susan at spc.susan@yahoo.com.
Saturday, March 25
The Harvest Youth Board's Books & Bunnies, which features an Easter Egg Hunt, crafts, interactive activities, food trucks and books, 11 a.m. to 2 p.m. at the Smith River Sports Complex Amphitheater, 1000 Irisburg Road, Axton. 
Tuesday, March 28
Book Bingo at the Martinsville Main Library will be held from 10 a.m. to noon. The event is free. Registration begins on March 21. 
The Southern Gentlemen Bluegrass Band will perform at 10 a.m. in the Historical Center's Susan L. Adkins Memorial Meeting Room. The event is free.  
ONGOING
Create a Memory Garden Planter at select branches of the Blue Ridge Regional Library in March. All events begin at 2:30 on: March 14 at the Ridgeway Branch; March 15 at the Collinsville Branch; March 16 at the Patrick County Branch; March 17 at the Bassett Branch and March 18 at the Main Branch in Martinsville. Participants are required to bring a pair of closed toe tribute shoes to create the planter. To register, or for more information, call the participating branch library of your choice.
Begin your journey of health and wellness by joining the Blue Ridge Regional Library's new Walking Club. The club meets at 11:30 a.m. on Wednesdays in March at the Main Library in Martinsville. 
Henry County Parks & Recreation invites you out for a trek along the trail. Call the HCPR Senior Services office at (276) 634-4644 to find out where the week's trek is happening! Trail Trekkers meet Thursday of each week (weather permitting) at 1 p.m. in the fall and winter and 9:15 a.m. in spring and summer.
The Blue Ridge Regional Library offers free one-day passes to the Virginia Museum of Natural History and the Henry County YMCA with your library card. The passes are good for one day and exclude special events. There is a wait period before you can check out the pass again. For more details and exclusions, visit brrl.lib.va.us. 
The Fontaine Ruritan Club hosts Bingo every Tuesday at 1903 Joseph Martin Highway, Martinsville. Doors open at 5:30 and games begin at 7. Money from Bingo supports community service awards, scholarships, and other community efforts. 
MHC Coalition for Health and Wellness (MHCCHW) offers "no-touch" Medicaid/FAMIS application assistance for Virginia residents from birth to 64 years of age. No sign-up fees, no premiums, no deductibles. Income Guidelines have increased effective 1/18/2023. If you applied in the past and were denied, please call again. MHCCHW's specially trained Medicaid/FAMIS Outreach Advocate can answer questions, and help you apply by phone Monday – Friday, 8 a.m. to 5 p.m. Medicaid renewals will resume soon. Medicaid members need to update their mailing address and contact information. Having accurate information will make sure they receive what is needed to renew their coverage.
In-person assistance is available on Wednesdays 10 am to 1:30 at Community Storehouse 128 E. Church St. (lower level of the old Leggett Building) Martinsville. Call or text Ann Walker at (276) 732-0509
The Henry County Adult Learning Center offers free in-house and online classes to help prepare for college, career, or earn your high school equivalency or GED. Call (276) 647-9585.