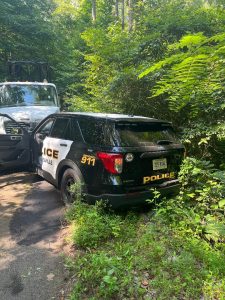 A Martinsville Police Officer conducting a traffic stop in connection with an alleged traffic violation around 2 p.m. on July 22 ended up discharging his duty weapon to keep from being pushed over what authorities are calling "a steep embankment."
Martinsville Police Chief Robert Fincher explained in a release that the vehicle in question stopped on Evening Star Lane in Henry County. Shortly after, the front seat passenger, a man, allegedly got out of the vehicle with an AR-15-style rifle.
The officer ordered the man to drop the rifle. He complied and then allegedly fled the scene on foot.
The officer recognized the man and knew he was wanted on several felony charges. After radioing for assistance, the officer detained the others in the vehicle and ensured that the rifle was not taken.
Upon arrival, additional officers began searching the area, according to the release. Officers also learned that a Freightliner truck was allegedly stolen from a parking lot.
A second police officer traveling on Veteran Drive encountered the man allegedly driving a stolen truck, according to the release. In the section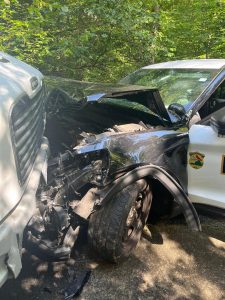 being traversed, the private road is only wide enough for one-way traffic. The officer's vehicle allegedly was rammed head-on, and a man allegedly tried to push the officer's vehicle out of the way with the truck, the release stated.
The patrol vehicle, with the officer inside, was pushed backward more than 50 yards, according to the release. Before the officer could be pushed off a steep embankment, he fired several shots from his duty weapon through the windshield of his vehicle into the cab of the truck. The man operating the truck was not hit by the gunfire, however, at that point, he stopped the truck. The officer then took the man into custody without further incident.
Jonathan Easter, 38, of Ridgeway, is being held without bond at the Henry County Adult Detention Center on outstanding warrants of felony elude and possession of a firearm by a convicted felon in connection with previous incidents, according to the release.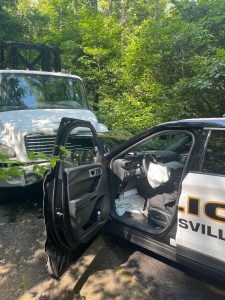 The Martinsville Police Department requested the Virginia State Police to conduct an independent investigation into the incident in accordance with the department's standard procedures.
The Henry County Sheriff's Office has also provided considerable assistance in the arrest and investigation of the incident.
The officer who was struck by the truck was treated and released for minor injuries at SOVAH Health Martinsville.
Additional criminal charges related to the July 22 incident will be filed after the investigation concludes and the findings are reviewed by the Henry County Commonwealth's Attorney.
"We are all very thankful that no one was seriously injured," Fincher said. "This incident is a good example of how our brave law enforcement officers are willing to risk their own lives daily to help protect the safety of our community."