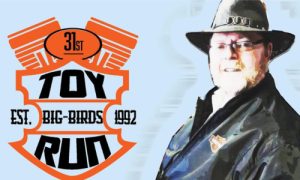 The 31st annual Big Bird Toy Run will be held on Saturday, November 11. The ride will start at Bird's Cycle Shop, located at 6537 Greensboro Road, Ridgeway, and ends at Sportlanes, located at 10 Koehler Road, Martinsville.
Registration for the event starts at 10 a.m. and the ride starts at 1 p.m. The cost is $20 per rider or $30 for doubles.
The ride was established in 1992 by Ricky "Big Bird" Holcomb to help Henry County children feel the holiday spirit.
Chad Hall, of BTW21 took over the ride about five years ago, after Holcomb's health began to decline. Holcomb passed away in February 2021.
A 50/50 auction, live music, and a meal for participants will be held at Sportlanes. Madhouse will perform following the ride.
Donations in the form of money or unwrapped children's Christmas toys can also be made without attending the event.
Annual proceeds typically range anywhere from $5,000 to $20,000.
The ride is sponsored by New Day Church, BTW21, Henry County Enterprise, Papa's Pizzeria Italian Restaurant, Daniel's Auto Glass, Jerry's Pizza, Domino's Pizza, Eden Jewelry, Bassett Funeral Services, and more.
For questions or to donate, call Chad Hall at (276) 647-9289.