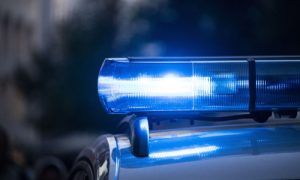 The Martinsville-Henry County 911 Center on September 30 received a call at 11:43 p.m. reporting gunshots in the area of the 1400 block of Fayette Street. When officers arrived, they encountered three people who directed them to a pickup truck that had gone over a guardrail, down a steep embankment and was upside down. 
Officers proceeded down the embankment but discovered that the driver and only occupant was deceased. The three individuals who pointed out the vehicle were not involved in the incident but came upon the scene immediately after the vehicle crash. 
Officers discovered evidence at the scene that verified the earlier report of gunshots, and that the pickup truck was the intended target of those gunshots. 
The Martinsville Fire & EMS Department responded to the scene for the safe securing and removal of the victim and vehicle. Because of the location of the incident, the road had to be closed off temporarily with the assistance of the Henry County Sheriff's Office and the Virginia State Police. 
The victim was identified as Antoine Jermaine Preston, age 47, of Martinsville. The state medical examiner's office in Roanoke will conduct an autopsy to determine the exact cause of death. 
The investigation is in its early stages as detectives are continuing to collect and process evidence. 
If anyone has any information regarding this crime, they are encouraged to contact Sgt. Harley Durham at (276) 403-5330 or they can do so anonymously through Crime Stoppers at 276-63-CRIME. 
More information will be released when it is available; however, no further information will be released at this time.