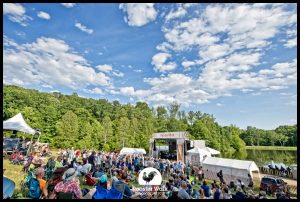 The 13th annual Rooster Walk Music & Arts Festival kicked off Thursday and will run through May 28, at Pop's Farm in Axton.
"The first Rooster Walk started in 2009. The event started in memory of two of my closest childhood friends who passed away in their mid-20s," said Johnny Buck, who co-founded the annual event in memory of Edwin Penn, nicknamed 'The Rooster,' and Walker Shank.
Buck said the festival took Penn's nickname and Shank's first name to create the moniker "Rooster Walk."
"So, it's four days and nights of music, art, camping, outdoor activities," he said.
The festival is also the largest event in Martinsville-Henry County that isn't put on by the Martinsville Speedway.
"It's the largest event outside of a NASCAR race every year," Buck said of the family-friendly event.
"We have a robust kid's area with kid's programming, educational activities, art activities, and kid bands. All weekend long, kids 12 and younger are admitted free with an adult," he said.
Buck said about 50 bands are set to perform at Rooster Walk.
"Some of them play more than once over the course of the weekend, so about 90 sets of music," he said.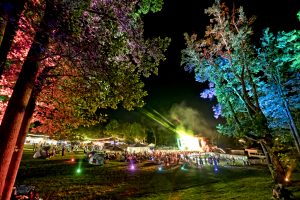 Notable bands include The Stews, TC Carter Band, Erin & The Wildfire, Empire Strikes Brass, Pigeons Playing Ping Pong, Yarn, Rooster Walk House Band, The Judy Chops, Sol Driven Train, Dangermuffin, Blue Cactus, and other groups.
Buck said there has not been one band that has played at all 13 festivals.
"We have a lot of bands who have played more than once, and every year we have some bands who are new to the event," he said.
Buck said festival tickets are still available. There are full weekend tickets and single day tickets "and everything in between."
A portion of the festival's proceeds are used to support an endowment scholarship fund for Martinsville High School students, and a Band Instrument program for Martinsville and Henry County school systems.
To purchase tickets, or for more information, go to www.roosterwalk.com or Facebook.com/RoosterWalk.
The Main Stage at Rooster Walk (Photo by Roger Gupta)