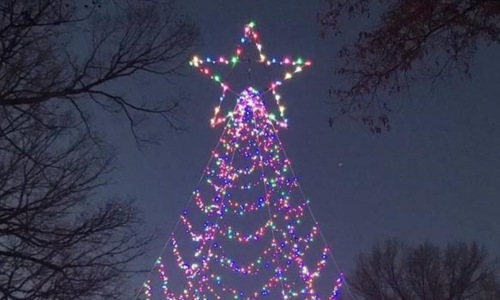 Piedmont Arts is inviting the community to usher in the holiday season with the annual Christmas Tree lighting in the Gravely-Lester Art Garden on Thursday, Nov. 30. The festivities start at 4 p.m. with holiday music performed by the Martinsville High School Jazz Band, wintery treats like candy canes and hot chocolate, and a visit from Santa. As the sun goes down, the tree will be lit and will continue to shine through New Year's Day. This event is sponsored by State Farm Agent Chris Wyatt and Press Glass. Admission to the event is free.
This will be the sixth year that Piedmont Arts has hosted a Christmas tree lighting event. Just like the sculptures in the Art Garden, the Christmas tree itself will be a work of art. 
Created by Ian Hogg, a local independent IT consultant and light artist, the tree will be comprised of more than 3,000 lights. Hogg is known for his Christmas light displays at his own private residence and at local events such as Rooster Walk. The lighting of the Christmas tree is a beloved holiday tradition, and the presence of the tree throughout the month of December has become a staple in the holiday landscape of Martinsville.