State and local representatives and others gathered Wednesday along with officials from Press Glass Inc., the largest independent glass fabricator in Europe, to hear an announcement that the company will invest $155.2 million to expand at the Commonwealth Crossing Industrial Park in Henry County.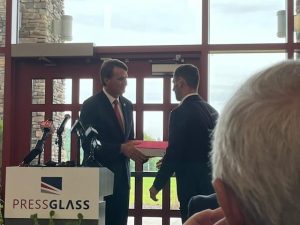 Gov. Glenn Youngkin said the company will construct a 360,000-square-foot addition to its existing facility to expand its U.S. presence and manufacture glass for the commercial construction industry. The project will create 335 new jobs.
"With this expansion, Press Glass will make the largest single capital investment by a business in Henry County's history," said Youngkin. "The addition of 335 new jobs, more than doubling the company's headcount, helps this region continue its economic rebound and demonstrates the resurgence of manufacturing that is happening across the Commonwealth."
Maciej Migalski, president of Press Glass North America, described the event as a "great moment, great occasion as we gather here to announce a new chapter in growth and innovation. It is with great pleasure that I stand before you today to share an exciting development that will not only shape the future of our company but will also contribute to the prosperity of the local community."
Construction of the expansion will begin in the first quarter of 2024, he said, adding he anticipates opening the additional capacity by the end of 2025.  
"We will not only provide individuals with jobs, (but) we will also create an environment that will allow them to grow … and to develop their potential as we understand that our employees are our most valuable asset," Migalski said.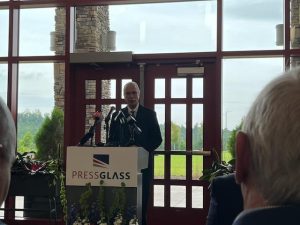 "Our customers have trusted us and recognized the highest quality of our products, therefore our decision to expand the Ridgeway facility was a natural step to expand our product offering and strengthen our position in the U.S. market," Migalski said. "After the expansion, our location will be one of the largest glass fabrication facilities in this country and with automation and state-of-the-art technology, we hope it will allow us to redefine industry standards." 
He said the support from the state and local entities allowed the company to take this "bold step" forward.
"Today's event is not only about our announcement, it represents a promise to build a better future together with our employees, together with our community, together with our partners, we hope to create a legacy of growth, innovation and shared success," Migalski said. 
Calling the event an "historic announcement," Youngkin said the Commonwealth is "absolutely roaring" with announcements of economic development projects, "and it's so much fun to see it happen."
The Commonwealth has shifted into this high gear because of all of you," an extraordinary workforce, great employers, and other factors, Youngkin said, and because "we in fact are seeing all the values that we hold dear take hold in the Commonwealth."
Youngkin said 220,000 people "are working today … that weren't (working) 19 months ago. We went from near the bottom of job growth to Number 4 in the nation, and that's why an announcement like we have today leads to this acceleration. It is an acceleration because we can find a whole new gear. I'm so excited to see us shift into overdrive."
Kate Keller, president of the Harvest Foundation, announced a commitment of $2 million from the Harvest Opportunity Fund to aid the project and "expand the amount of jobs we have here" at Press Glass.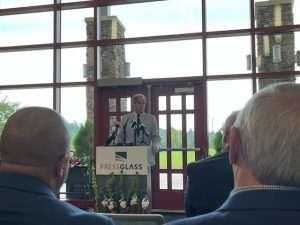 "Press Glass' decision to expand its manufacturing facility in Commonwealth Crossing speaks not only to the strength of Press Glass' position in their industry but also to the decision local (elected) officials made 15 years ago to invest in a modern industrial park that would be attractive to growth companies like Press Glass," said James McClain, chairman of the Martinsville-Henry County Economic Development Corp (EDC). "The EDC is grateful to Press Glass for their continued confidence and investment in Martinsville-Henry County."
"The decision of Press Glass to invest and grow in our county is a resounding vote of confidence in our talented workforce, robust infrastructure, and supportive manufacturing environment," Jim Adams, chairman of the Henry County Board of Supervisors, said. "Not only does this expansion bring prosperity to our local economy, it also reflects the potential and attractiveness of our community for global business."
Mark Heath, president and CEO of the EDC, said the difficult part was getting the company to locate to Henry County the first time.
"To get them to decide to come here rather than North Carolina. We've worked with them for four years now, and we have a great relationship," he said.
As the business grew in North America and realized it needed more space, Heath thought of the Henry County site first.
"So, we've been meeting with them for the better part of the year talking about this process and what they would go through to get financing in place, we had to put together an incentive package. It was really more than anything else our project to lose quite honestly," he said.
Heath said the real secret sauce was that Press Glass likes the area and its labor force and labor draw. The land the site sits on was also already graded, so the company didn't have to go to another location looking for land for the expansion.
"It just made it easy for them. We eliminated a lot of the obstacles and roadblocks that you would normally have. So, it's a collaboration, but it came together pretty well," he said.
Dels. Danny Marshall and Wren Williams also attended the event. Del. Les Adams was unable to attend, but sent a representative in his stead.
Headquartered in Konopiska, Poland, Press Glass was founded in 1991 and has 15 factories in Europe and the U.S. As the largest independent flat glass processing operation in Europe, the company processes glass for fabricators of windows and doors, facades, and interior glass constructions. The company opened its Henry County facility in 2020 and employs more than 300 people.