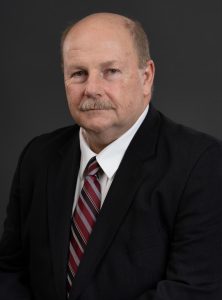 Daryl Hatcher is the third candidate to enter the race for the Henry County Sheriff's post in the November election.
Former deputy Del Mills and Henry County Sheriff's Col. Wayne Davis also are vying for the office.
Hatcher, 58, said he decided to enter the fray because it's something he's wanted to do for years.
"It's one of those things where if you try to run against a sitting sheriff, you're going to lose pretty much. So, the timing has to be right, and the time is right," he said.
Hatcher also believes he can do a better job in the position than what is currently being done.
"There's some changes that need to be made, and I think I'm the right person to do it," he said.
Hatcher said his platform is to restore the trust and confidence the community has in the sheriff's office.
"It's not just here, it's everywhere where you see confidence and trust being eroded within law enforcement, and between law enforcement and the community," he said.
Hatcher said voters "have told me they had crimes occur and the response they got was less than adequate" from law enforcement officers (LEO).
"They didn't have confidence that if they ever had to call the sheriff's department again that they would solve their crime. I've even had other people say that 'yes, I've had a larceny occur from my property and the deputy came out and took the report, and then told me if I find anything out to call him,'" he said.
Hatcher said the person in that particular case gleaned some information about the location of the items taken and called a deputy.
"He waited, and waited, and he never got any response. So, he then went and approached the guy who supposedly had his stuff, and he told the guy to give him his stuff back. The deputy never followed up on it," Hatcher said.
To help meet his goal, Hatcher said he wants to implement a citizens' police academy where the sheriff's office is open to teach citizens how it solves crime.
"They get to see the tools, they get to see the office, meet the officers, try to establish a good two-way communication between the public and the sheriff's office. They get to see what it's like from the inside looking out, and in other words, see our perspective on how we solve crimes," he said.
Hatcher has not maintained his LEO certification. It expired in 2017, but he said he has 43 years of public safety experience, including 33 years in law enforcement.
"I'm certified as a paramedic, and I still run with the Fieldale Collinsville Rescue Squad. I've also got fire training and emergency management training," he said.
Hatcher worked as a dispatcher with the Henry County Sheriff's Office in 1984, until he was hired as a Virginia Game Warden with the Department of Game & Inland Fisheries (DGIF) in 1988, where he worked in several different areas.
He returned to Henry County in 1995 as the game warden patrolling Philpott and Smith Mountain lakes, as well as other areas in southside Virginia.
In 2006, he became the Director of Public Safety for Franklin County. In June 2017 he took his current position as the Security & Safety Supervisor for Sovah Health in Martinsville.