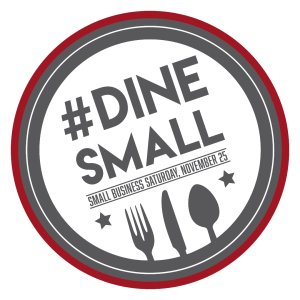 For the sixth year, the Martinsville-Henry County Economic Development Corporation (EDC) will be sponsoring their Dine Small campaign on Small Business Saturday on November 25th.
The Dine Small campaign was created to encourage residents and visitors to eat at small locally owned restaurants in Martinsville and Henry County, especially on Small Business Saturday. That day also falls on one of the busiest shopping days of the holiday season, the day after Black Friday.
The EDC will be offering $10 vouchers towards food purchases at 21 local small restaurants that agreed to participate. Many of these restaurants have menus with meals less than $10, thereby allowing the customer to eat for free or at little cost. If a diner's meal costs more than $10, the diner is responsible for the difference. It should be noted that the voucher amount cannot be used toward alcohol purchases or non-food/non-beverage items.
The campaign is a win-win for the diners and for the restaurants. The diners get a free or discounted meal, and perhaps will use this experience to go to a different restaurant from their norm. The restaurants get customers through their door who may even spend more than the voucher's value.
Last year, over 600 vouchers were handed out. There is no cost for the vouchers, but they must be picked up in person (one per person present, no holds, no exceptions).
Vouchers will be available beginning at 9am on Monday, November 13, at the Lower Level of New College Institute Baldwin Building (191 Fayette Street, Martinsville). PLEASE PARK IN THE LOWER PARKING LOT.
Pick up hours for this event are 9am-5pm on Monday-Friday (November 13-17) or until the supply has been exhausted.
A list of participating restaurants can be found at https://bit.ly/3QA7itK and include:
Bowl-B-Q Smokehouse & Bar

Captain Tom's Seafood

Chopstix

Don Pepe's Taqueria

The Ground Floor

Hugo's Restaurant & Sports Bar

Hylton's Wood-Cooking Grill

Jerry's Pizza

Kornna Kitchen

Los Norteños Mexican Restaurant

Luck's Lounge

Manny's at the Park

Manny's Seafood, Soul & Mexican

Pacific Bay Steak & Seafood

Papa's Pizzeria

San José Mexican Restaurant

Simply Suzanne's Café

Tammy's Grill

Tequila's Sports Bar & Grill

Wild Magnolia

Yummey's Bar & Grill